It must be marathon season

— everyone's testing the $29 Nike+iPodSportKit..
Running Works for Closet Therapy who tackles the brutal yet butt shaping Santa Monica Stairs and reports on the satisfaction of syncing the iPodto her computer after each run and reviewing it online for a sense of accountability, the" iPod doesn't lie."
Fab Sugar explains that the kit lets you connect your running shoes wirelessly to your iPod Nano, so you can use the music player to track your workouts, including miles run and calories burned. There's even a setting that lets you choose a "power song" that you can activate when you need a little extra motivation.
Shoes, electronics, computer hook-ups… If that alone gets your heart pumping, perhaps you'd just like a pretty pink Nike Imara Heart Rate Monitor. (via outblush)
Now that you're in shape

— we're in the mood for some pretty dresses (check-out our Dress Dictionary)
The editors at Omiru found this nautical gem. — Development Alice Dress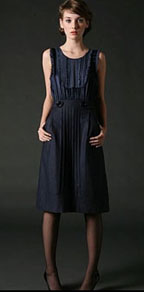 Lesley at Fashiontribes is lusting after the Temperley London Orchid Print Dress
, and now, so are we. Although $1200 for a dress isn't exactly in this blogger's budget.
Good thing big designers are still going discount. Shop Diary alerts us that Proenza Schouler is next up in at Target. And we will be fighting her for that trapeze coat.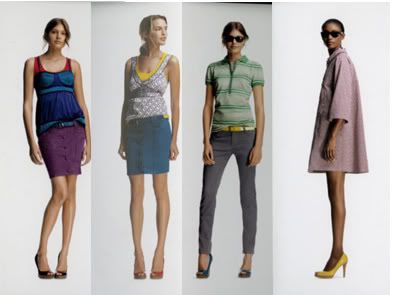 Roland Mouret makes his way to the Gap later this month. Although we don't understand why Cameron Diaz gets

these dresses:

and we have to settle for these odd shapeless shifts: (via nitrolicious)

Finally, lest beauty fans feel left out of the prestige goes mass trend: Avon's enticed Jillian Fink (Mrs. McDreamy) Dempsey, founder of the celeb fave Delux Beauty, to be their color director. (via iampretty)
Oy — we're exhausted — time for a nap. Catcha next week!

(via cuteoverload)