It seems like over night, we're all in the mood for fall nail colors and I couldn't be happier about it. Gone are the pinks and corals of summer, and here are the warmer, darker tones of fall. Nail polish is the cheapest way to update your look, and beating all your friends to the punch is an added bonus. So, we did a little fall runway stalking and bring you fall's hottest nail trends (including an impressive fall Essie collection that just hit today):
Take a cue from the runways of Karen Walker, Thakoon and more who showed velvets, leathers, and furs and stock up on the rich colors like purple, slate gray and shimmery, galactic hues like teal and rasberry.
Purple is huge for fall. Leading the charge is Chanel's Paradoxal ($23), a pretty, feminine twist on the darks browns we've all been wearing for years. This is an on-trend way of wearing the hottest color this fall without totally restocking your closet.
Tarina Tarantino gets sparkle right with her Supernova Nail Lacquers ($12). We love the gunmetal Starchild as a strong neutral, and the teal and blue options as jewel-toned punches of color.
Not to be outshone, Deborah Lippmann's All That Jazz Color Trio ($40) packs an insane amount of sparkle into its salmon, ocean and raspberry-hued shades, grabbing attention everywhere you go.
The second fall trend – pale neutrals like beige and camel, and muted greens and mauves – comes courtesy of Marc Jacobs, Derek Lam and others.
Following suit, Chanel's Khaki collection is a perfect trio of flattering neutrals (from left, Khaki Vert, Khaki Brun and Khaki Rose) set to debut on September 10th, and we can hardly wait. Thank goodness we have Chanel's Jade to tide us over.
Thankfully, Essie's fall collection is available today and the Nordstrom exclusive Essie Fall Mini 4-Pack ($17) features Sew Psyched, a dead ringer for Chanel's Khaki Vert and Merino Cool, a suitable alternative to Chanel's Khaki Brun.
If you're yearning for the Chanel's terracotta-hued Khaki Rose, check out Essie's new In Stitches ($8), a nice match.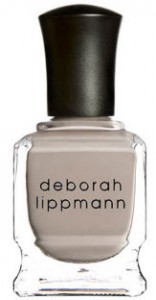 For a cooler neutral look, try out Deborah Lippmann's Waking Up In Vegas ($16), a perfect taupe which can look more or less opaque depending on how many coats you use.
Whether you're rocking skinny jeans or jeggings this fall, over the knee boots or flat boots, your nails will be in runway style every day of the week.
Get ready for fall with our shopping guides for blazers, fall handbags and all the fall fashion trends.