It's the last day of New York Fashion week, and we've showed you how to fit in, what sunglasses to wear, and even what uniform Rachel Zoe approves of. Our final New York homage to the crazy week is how to look pulled together–whether you're at fashion week or not.

Case in point: AnnaLynne McCord (of the new Beverly Hills 90210) looking stylish. The beauty of this look is that it's so easy to wear in daily life. Follow these steps: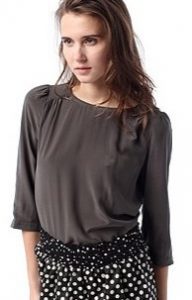 Start with a strong shouldered top, like this Silence & Noise Strong Shoulder Blouse ($58) by Urban Outfitters. You can easily mix and match this top in a number of other looks (here's how).
Tuck the top into a chic mini skirt. Banana Republic offers this Linen tulip skirt ($69) at a nice price, and best of all, it's roomy so you don't feel too constricted or show off too much.
Finish accessorizing with a Linea Pelle Super Skinny Hip Belt with Dome Studs ($76). Add booties and a clutch and you're ready to go.
And some subtly textured Spanx Tight-End Trinket Tights ($33) to stay warm, and don't forget a good winter coat or some faux fur when you step outside.
Check out all of New York Fashion Week's best styles and our favorite online sample sales happening now.