The beauty of a Cambridge Satchel is that it's a total "It" bag without the obscene price tag (most cost $150). What's also great about this simple cross-body is that it can be a blank canvas for colors, prints and ballsy collaborations. ASOS, Doc Martens and Commes des Garçons have already put their mark on the bags — but we think this is the craziest Cambridge yet:
London label Basso & Brooke gave the satchel a whole "moment" during London Fashion Week (above) when the Brazilian/Brit designers applied the digitized prints from their dresses and separates to it. So, you ask, how could a bag that already comes in neons, metallics and the Union Jack flag turn even more heads? See for yourself: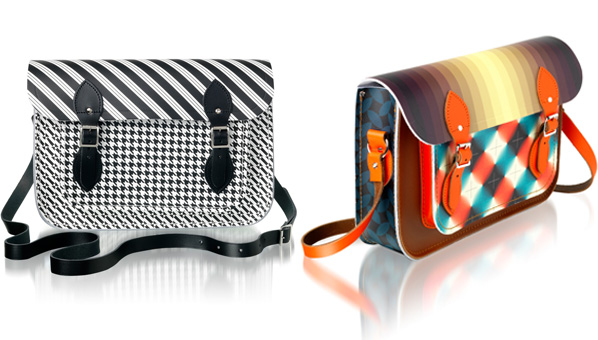 Cambridge Satchel Company x Basso and Brooke
Our reaction? Where can we get one of those?!?! After seeing this satchel in a ton of metallics, neons, pastels, and solid colors, it's a breath of fresh air to tote this purse in a unique design. We'll try our best to hold our excitement until the fall when we can get our hands on these bad boys.
We've been obsessed with this satchel since it came in the original neon yellow, and its even been a target of knock-offs recently.
Read more fashion news: Kate Middleton's favorite brand has e-commerce, Chloe Green for Topshop, and what's everyone buying at Sephora.