You probably don't remember when Dior created a 24-karat temporary tattoo set back in 2012. But, you probably do remember the time you had serious FOMO, because you weren't at running around Coachella with Kendall Jenner wearing a ton of metallic, temporary Flash Tattoos, right? Well, even though Coachella is over, gold and silver temp tattoos are still a thing, and now, you have an excuse to get a set.
Your excuse could be that the only way to get a shiny silver or gold tatt is to get a temporary one. (You'd think they would've invented metallic ink by now. It's 2014 for heaven's sake! #slow). Or maybe you want a set just because they're super popular all of a sudden, thanks to the Cali music-fest scene. Sorry to break it to you, but these excuses are kind of lame. Don't worry, we have a better one you can use…
If you spend $40 at BaubleBar, between now and July 20, you will get a FREE set of Flash Tattoos (usually $22) with your order! Aka. You can get a pretty piece of jewelry and match your tats to it. Why buy a whole arm party when you can just tattoo it on like the model in the photo above? This tat set comes with both gold and silver styles that can be applied to your skin look like a bracelet, cuff, necklace, choker, ring or midi ring. The options are basically endless. All you have to do to get your set is shop (which is pretty darn easy), and type in the code, FLASH, when you checkout. Click the link below to get your set of Flash Tattoos now.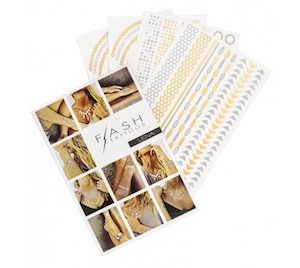 Flash Tattoos (usually $22)
And don't forget to check out: Beyoncé's $110 romper, metallic eyeliner, and 3.1 Phillip Lim x NARS nail polish.