Those BaubleBar girls just don't stop. While we were still swooning over the statement necklaces and earrings from the BRIDES magazine wedding collection, BaubleBar launched another new collab. Their partner this time? Actress Emma Roberts!
Emma's 20-piece collection is inspired by everything from her fondest childhood memories to her modern muses. What that means in reality? Gorgeous, sparkly necklaces, colorful earrings and my personal favorite, these evil eye ear jacket earrings. Check them out below: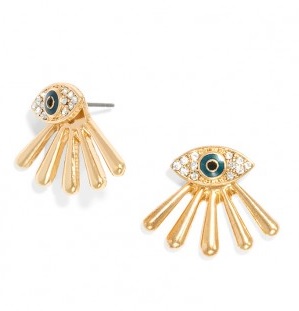 Third Eye Ear Jacket Earrings ($28)
If you're still wearing the same jewelry you were rocking this summer, here's the perfect opportunity to do a fall update. Nothing in the collection is more than $150 and everything ships for free. Go check it out!
SHOP EMMA ROBERTS X BAUBLEBAR NOW!
Don't miss these celebs rocking head-to-toe denim, what we're buying for fall and 12 fall trends you need to invest in.