Here we go again: the anticipation for the Sex and the City 2 movie is starting, with what else but tons of collaborations? Apparently, the fashion and beauty industries have been feeling very "inspired." From underwear to a soon-to-be-released special edition HP computer collaboration, and upcoming Payless collaboration with the movie's famed stylist, Patricia Field. SATC 2 is about to invade every aspect of your life: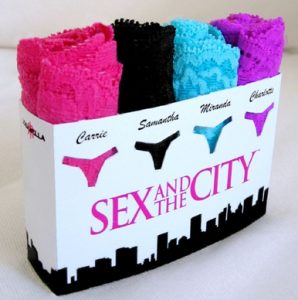 Select your undergarment according to which Sex and the City character best fits your mood that day (slutty? sweet? curious? take-charge?) with Cosabella's 4-pack of "Cutie Booty" thongs ($69).  It's a totally cheesy concept, but Cosabella's thongs are comfy, sexy and cute so we can support a well-priced thong box set.
We've been drooling over Sarah Jessica Parker's latest line for Halston Heritage, so it was not so shocking to see that Carrie makes not one, but two appearances in SATC 2 in SJP's breezy designs.  Get the iconic white dress ($325) and the pleated 70's inspired party look ($435) that we're sure Carrie will wear to a fabulous New York City party.
These foldable "after party" flats on the HBO website are actually a kind of genius idea to store in your bag for when you can't stand your heels any longer.  Each of the four pairs of shoes ($64.99) is–you guessed it-inspired by one of the characters, with the Carrie on top left followed by the Miranda, Charlotte, and Samantha on the bottom right.
Patricia Field, who, as we mentioned, is designing a fall line for Payless that we cannot wait for – also sells SATC-inspired gear at her NYC store. Get the same metallic Mykita and Bernhard Willhelm limited-edition shades Carrie sports throughout the upcoming movie ($525).  No one ever said dressing like Carrie Bradshaw would be cheap.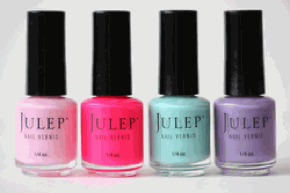 Julep's 4 latest colors are (do we even need to say it?) inspired by the styles and personalities of Carrie, Samantha, Miranda, and Charlotte ($24.50 for the set, $7.25 separately) as shown from left to right.  Paint your nails to match your Cosabella thong and HBO flats to truly embody the essence of each character.
Be prepared for the warm weather with our spring fashion guides, including the best rain boots and trench coats.  Get the low down on all the best online sales with our list of this week's online sample sales.