Although four inch heels are a magical means to elongate gams, perk up a tush, and add model-esque height, they are also a form of fashion masochism. After all, women are getting foot surgery to fit in Manolos, foot surgery because they fit into Manolos (and wore them), and knee surgery after years of a dysfunctional love affair with stilletos. And so, ladies, we at Shefinds would like to make a public service announcement on behalf of the cartilege in your knees. This season is sporting some wonderful, fashionable, FLATS! They're kind to your feet and any short man in your life. So, let's take a look while you soak those blisters.
A night on the town doesn't mean that you have to sport spikes. You can dance without pain and scale the stairs to a VIP room without taking a tumble in these Sigerson Morrison embellished flats ($221). Taking cues from the new trend of chunky jewels, these ballet flats will compliment any LBD and be versatile enough to sport at the office. And, should you want to add a bit more glitz to the glamour, Report Signature ($165) has a pair of sequin sling-back flats that would make Dorothy wish she wasn't so attached to those ruby ones. (Or gingham. Yech.)
Now put away those worn out sneakers or wedges for running errands. Even those most basic jeans and Hanes white v-neck t-shirt can be updated in a comfortable manner with a pair of colorful flats. Coral, green, and purple are the new "it" colors for this coming season, so pamper your feet in a pair of lavender Tory Burch ballet flats ($195). If you are like me and prefer to spend less on casual shoes because you walk enough to wear them out within a season, Kenneth Cole's Tribeca flat comes in yellow and green with a cost ($30) that won't make you consider taking a taxi to save its sole.
As hot weather approaches (or you jet off for a warm weekend in the sun), you can show off your pedicure in a pair of Bernardo sandals for $125 (Jennifer Connolly is a fan of the label). Who would have thought that a pair of flip-flop alternative flats could be sexy? For those stuck in cold weather, try the stylish yet affordable Buckle flats ($96).
If you're braving inches of snow to shovel a sidewalk or make it to the office, you don't need to wear dad's galoshes or sacrifice your Jimmy Choos to the salt. Wellies ($99) have been worn by celebrities like Gwyneth Paltrow and are undeniably cute in a chunky, rubbery way. I own a pair and couldn't live without them.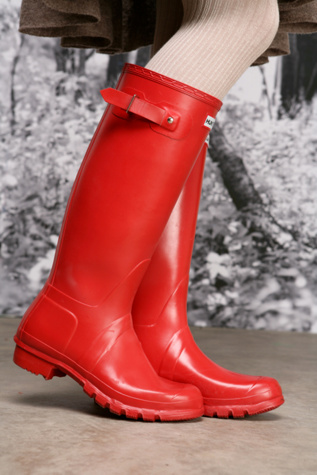 Looking for more ways to stay chic without getting blisters? Check out our guide to comfortable shoes.