Remember the craze of women shaving their face last year? Turns out, it's here to stay! Stacked Skincare recently debuted a Dermaplaning Tool, which safely remove peach fuzz and dead skin cells for smoother, bright skin, and beauty diehards are obsessed with it.
First things first: if you're hesitant about putting a sharp object to your skin, the key word here is safe. This at-home tool was specifically designed to gently replicate the in-office dermaplaning procedure. By removing facial hair and dead cells, your skin can better absorb nutrient-packed serums and cremes. That means you're actually getting your money's worth and you'll see the benefits with your own eyes!
Don't just take our word it, though. Here's what a few real women have to say about Stacked Skincare's Dermaplaning Tool:
"This a wonderfully innovative tool for home use. It is very well designed and made from high quality materials. I find it easy to use with the help of the instructional video, and the results are excellent. I highly recommend it!"
I tried my dermaplaning tool for the first time and was shocked at how smooth and bright my skin looked afterwards! I used it about 4 weeks ago and the small blonde hairs are just now beginning to grow back but they are not spiky, coarser, etc. very impressed with this tool, will be buying refill blades!"
"Have never used anything like this before… glad I did because I love the way my skin looks and feels!!! Definitely a keeper !!!!! Thank you."
"Just used my new dermaplaning tool for the first time and very happy with the results! Pays for itself with one use."
Ready to try dermaplaning for yourself? Watch Kerry, an esthetician and founder of Stacked Skincare, demo the tool below: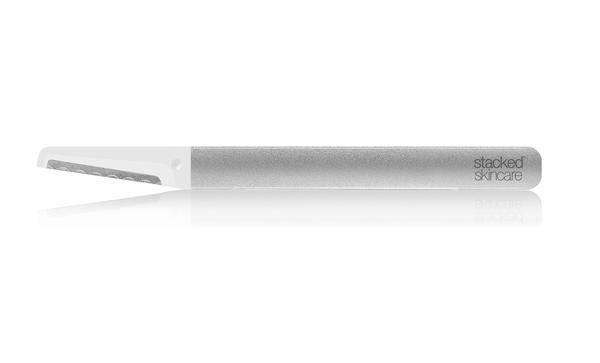 SHOP STACKED SKINCARE'S DERMAPLANING TOOL NOW
Don't miss the best drugstore beauty products and the best new beauty products of 2017.
[Photo: Stacked Skincare]