Attention, ladies: we are declaring the end of too-short, too-boxy and otherwise ill-fitting jackets and coats this winter. We are sick of seeing you in winter coats that don't work for your shape, and you should feel the same way. Since it's difficult to find a coat that is actually warm, but that doesn't resemble a marshmallow, here are some options, by body type, that should work for you:
Apple:
A single-breasted style with a belt like this Ellen Tracy Belted Wool Walking Coat ($188) creates an hourglass shape like, which is perfect for apple shaped gals (thicker or wider in the mid-section).
Tall:
Lucky girl, you can wear a long coat like this luxurious Eileen Fisher Alpaca Doubleface Long Coat ($398) without being overwhelmed by all that rich, luxurious alpaca.
Pear-shaped:
As a pear-shaped girl myself, I highly recommend this Laundry by Shelli Segal Belted Down Jacket ($236.25) because I happen to own it and I love it. The fur collar balances out my bigger hips/butt and the longer hem covers my upper thighs.
Athletic: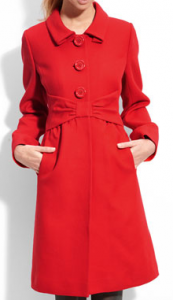 Your boyish figure needs a girly color and style like this Kate Spade 'Ela' Coat ($675) that'll cinch you in and create curves. Stay away from boxy cuts to avoid looking masculine.
Petite:
Because of your tiny stature, you can wear a bold colored short coat like this Burberry Brit Quilted Microfiber Jacket ($395). With not a lot of bulk and length, your smaller frame won't be overwhelmed.
Read more of our dress for your shape posts. Shop our guides to the best off the shoulder tops, the best heavy scarves, and the best flat boots. Sign up for SHEFindsMail and receive exclusive fashion updates.