One of the hardest things to keep on point are eyebrows. Your brows can seriously make or break your look. One wrong pluck with your tweezers can drastically botch them. Since the beauty world is letting thick eyebrows shine right now, we all want to achieve fuller looking brows, while also keeping them tamed.
Even if you have brows that could put Cara Delevigne to shame, using a little product to enhance them can take your brows to a whole new level. If you want to give your brows a thicker, more flawless look, take a peek at this cult-favorite beauty product that is back and better than ever: The Benefit Gimme Brow+ Volumizing Eyebrow Gel!
Benefit Cosmetics Gimme Brow+ Volumizing Eyebrow Gel ($24)
This brow volumizing gel from none other than Benefit Cosmetics is back from its hiatus and we couldn't be any more excited about it. In just a few swipes, this tinted brow gel instantly gives your eyebrows a thicker, fuller, and more voluminous appearance. It works like this: the gel contains tiny microfibers that cling to your skin and hairs to create a more natural boost of fullness and definition. The pigmented formula gives you a vibrant tint that will make your eyebrows pop out like never before. The result? Thicker, natural-looking brows that will stay put all day long!
To really prove how well this eyebrow gel is, I put it to the test for you. I tried out this miracle gel's new formula for the first time ever and I'm revealing my truest, most honest results about using it. No games, I'm just serving up a steamin' hot plate of truth to all of you about this gel.
Before we get into the Gimme Brow+ gel application, take a look at my natural brows at their absolute worst: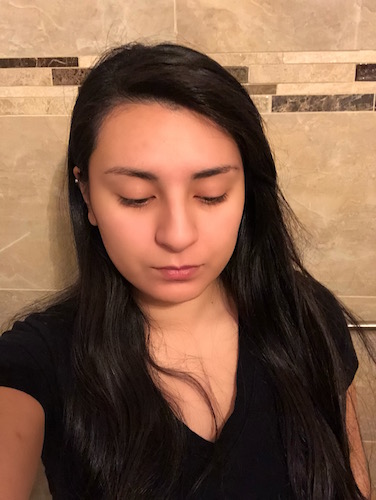 If there's one thing I wasn't blessed with, it's perfect brows. My eyebrows are very patchy and misshaped, so they always need a little daily TLC from a few brow products. I live by them and there isn't a day where I don't fill in my eyebrows. Needless to say, I was pretty hyped about testing out this tinted brow product.
The Benefit Gimme Brow+ Volumizing Eyebrow Gel is supposed to give off a more natural finish in comparison to the boxy, obviously overdrawn look that many other brow pencils and pomades can give you. It comes in three shades, light, medium, and deep, which seems limited at first but actually work. I used shade 03-medium, which is a medium brown tint.
Quick tip: I have very dark brown hair, but when buying brow products I always go a shade or two lighter since the pigment translates to a darker finish when paired with my natural color.
I'm not joking when I say that I saw a significant difference in my brows after one swipe. They look noticeably more defined, darker, and groomed after applying this gel. I'll shamelessly admit that I was very impressed. After two swipes of the product, my eyebrows have never looked better.
Here's the final look:
As you can see, my brows have a much thicker look to them and appear to be perfectly groomed! It left a natural finish that I completely adored and is perfect for day-to-day wear. My eyebrows have honestly never looked this good, especially since the light and buildable tint left them looking naturally full and shaped. I was also really shocked at how easily this brow gel effortlessly covered up most of the empty patches in my eyebrows, which is a struggle to do evenly with a brow pencil. The only downside I can think of to this product is that, like most brow gels, it leaves your eyebrow hairs feeling a little stiff and uncomfortable, depending on how much product you apply.
Overall, I definitely would use this product again. The new and improved formula is nearly perfect. The pigment from the tinted formula also gives my brows a more vibrant, eye-catching look that I never thought was possible. To my surprise, this eyebrow tint is also totally affordable–it's only $24.
If you want to give your brows a fuller, more groomed appearance, then I recommend using this Gimme Brow+ gel. You can even pair it with an eyebrow pencil if you prefer to shape your eyebrows for a more dramatic look. My favorite is the Benefit Cosmetics Precisely, My Brow Eyebrow Pencil ($24) for its super-fine tip that allows you to fill in and shape your brows without creating a bulky look. It also comes in 12 shades so you know you'll find your perfect hue. You can grab one for yourself below.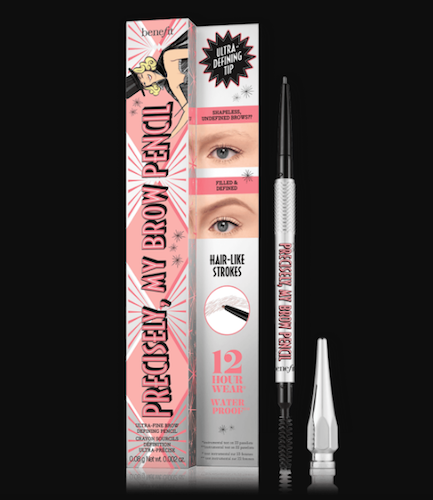 Benefit Cosmetics Precisely, My Brow Eyebrow Pencil ($24)
In need of more budget-friendly skincare products that aren't packed with unnatural ingredients? Say no more–we found the best cheap natural skincare products, on SHEfinds.
SheFinds receives commissions for purchases made through the links in this post.