If you feel like the stress of the day and all the nastiness in the environment completely negates the benefits of the beauty products you put on every morning, why not amp up your nighttime beauty routine? There are tons of amazing products specially formulated to work wonders while you sleep. All you have to do is apply liberally, lay your head and let them go to work. Whether you need heavy duty hair moisture or some extra help with your wrinkles, start using these products before bed and you'll wake up even more beautiful than when you went to sleep.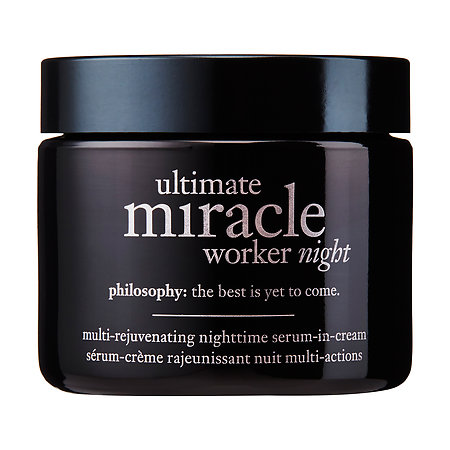 Face: You have plenty of time to let potent skincare products do their job–while you sleep! This is the best time to moisturize and make the most of your anti-aging products. Philosophy's Night Ultimate Miracle Worker nourishes the skin for a refreshed appearance in the morning and works nightly to reverse signs of aging–bye-bye wrinkles and fine lines! On those days that your skin is feeling super dry, sleep in an overnight moisturizing mask like the KORRES Greek Yoghurt Advanced Nourishing Sleeping Facial or the Origins Drink Up Intensive Overnight Mask for intense hydration.
Eyes: An eye treatment that gradually prevents and reverses aging around the eye area? You're not dreaming! It doesn't get any easier than the First Aid Beauty Eye Duty Triple Remedy Overnight Balm. All you need to do is to apply this on your lids and your under eyes each night, the balm will do the rest.
Hair: As someone with thick hair, I know how hard it is to care for a borderline unmanageable mane. Isn't it so much easier to just throw in a hair product that will work some magic overnight? Yup! The Living Proof Perfect Hair Day Night Cap Overnight Perfector works through the night on wet hair and provides shine that lasts a week. Need a quick fix for dry, damaged hair? Solution: Briogeo's Don't Despair, Repair! Gel-to-Oil Overnight Repair Treatment.
What products do you use nightly? Leave us a comment down below!
Don't forget to check out the best beauty products for serious stress relief and the 9 best lip scrubs that aren't too harsh.
SheFinds receives commissions for purchases made through the links in this post.