I'm 100% team "leggings are not pants." Honestly, I rarely wear them outside of my apartment. That being said, when I am home, they're pretty much the only thing I wear. Being that I'm a homebody and I'm home a lot, I have tons of black leggings.
I used to buy them in massive quantities from Forever 21 and H&M because they were super inexpensive. But then I had a revelation–I wasn't actually getting that great of a deal on these $5 leggings because I had to replace them after two washes. We all know what happens–you wash cheap leggings a few times and boom, they're see-through. It's the worst–isn't it?
I decided to put an end to this madness once and for all, so I rounded up the three brands I've found to be the most durable and comfortable. If you love leggings as much as I do, I encourage you to splurge just once on these promising black leggings. I have no doubt you'll see the light.
1) Danskin
Danksin Supplex Yoga Ankle Leggings ($36)
Given how much I love leggings, I decided to do something I normally wouldn't do–pay more than $20 for a pair. Blasphemy! I "splurged" on their Supplex Yoga Ankle Leggings for $36. When I say they were a game-changer, I really can't convey how much I love these freakin' leggings. I've been wearing them constantly and they are still as thick and stretchy and amazing as the first time I wore them. I truly didn't think it was possible! They are so good that I sometimes even sneak out and wear them to the grocery store (even though I despise wearing leggings beyond the confines of my house). My point is, cheap leggings are not as good as the slightly more expensive ones.
2) Nike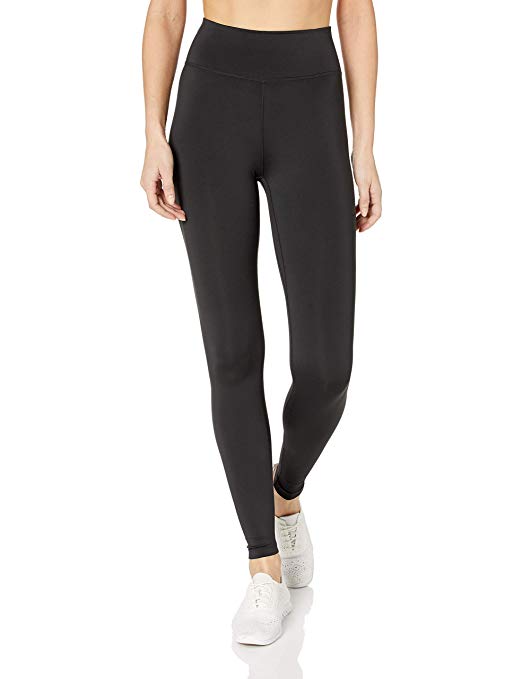 Nike All-In Tight ($50.99)
This brand probably won't come as a surprise to you, considering Nike is the ultimate athletic brand. I got my first pair of Nike leggings in one of their factory stores last summer and I've never looked back. The sportswear brand has a great selection of printed leggings too, so you don't have to limit yourself to just black. I have a blue and black patterned pair that goes perfectly with all of my athleisure outfits and my black sneakers (which are also Nike…LOL). At less than $50, you're totally getting the most bang for your buck in terms of quality and style. After a year of wear and tear and many, many washes, my Nike leggings have proven they can stand the tests of time. Even the color hasn't shown any signs of fading. This pair is also high-waisted, so they tuck in my tummy.
3) Hanes
Hanes Stretch Jersey Legging ($8)
Chances are you know (and love) Hanes for their crazy comfy and affordable tees and undies. But, you absolutely, positively need to own a pair of their leggings. Yes, they are that good. I've owned a pair of Hanes leggings for over a year and they're always the ones I reach for when I'm home and want to get all comfy and cozy. When they're in the laundry, I always find myself bummed out that I can't wear them. And speaking of laundry, they wash so well. Talk about softness! I feel like they truly get better and better each time I wear and wash them. Best of all? They're insanely inexpensive. And sometimes, you can even find them on sale for as cheap as $8. Amazing, right?
Be sure to check out these super slimming side striped leggings and the best leggings to wear to work, on SHEfinds.
Also, if you have leggings that you love that don't get all flimsy and see-through after a few washes, please share in the comments!
SheFinds receives commissions for purchases made through the links in this post.