3 Brands With The Best Cheap Black Leggings That Don't Turn See-Through After 1 Wash
I'm 100% team "leggings are not pants." I rarely wear them outside of my apartment, but when I am home they're pretty much the only thing I wear. And being that I'm a homebody and I'm home a lot, I have tons of black leggings. I used to buy them in massive quantities from Forever 21 and H&M, but then I had a revelation. I wasn't actually getting that great of a deal on these $5 leggings because I had to replace them after two washes. We all know what happens–you wash cheap leggings a few times and boom, they're see through. I hate that. I rounded up the three brands I've found to be the most durable and comfortable, so if you love leggings as much as I do I encourage you to splurge just once, too. I have no doubt you'll see the light.
Also, if you have leggings that you love that don't get all flimsy and see-through after a few washes, please share in the comments!
1) Fabletics. Given how much I love leggings, I decided to do something I would usually never do–pay more than $20 for a pair. Blasphemy! I "splurged" on the Salar Leggings from Fabletics for $40 and when I say they were a game-changer, I really can't convey how much I love these freakin' leggings. I've had the same pair of over a year and they are still as thick and stretchy and amazing as the first time I wore them. They are so good that I sometimes even sneak and wear them to the grocery story even though I despise wearing leggings beyond the confines of my house. My point is, cheap leggings are as good as the expensive ones.
Fabletics Salar Legging ($49.95)
2) Nike. I got my first pair of Nike leggings in one of their factory stores last summer, and I've never looked back. The sportswear brand has a great selection of printed leggings, too, so you don't have to limit yourself to black. I have a blue and back patterned pair that goes perfectly with all my athleisure outfits and my black sneakers (which are also Nike…LOL). At less than $50, you're totally getting the most bang for your buck in terms of quality and style. After a year of wear and tear and many, many washes, my Nike leggings prove they can stand the tests of time. Even the color hasn't shown any signs of fading. I also love them because they're high-waisted, so they tuck in my tummy.
Nike Sportswear Leg-A-See ($45)
3) Lou & Grey. This sister brand to Ann Taylor and Loft exclusively designs comfortable, casual clothing. Seriously— when we say comfort, we're talking cloud-like material here. And, this pair isn't called the "Essential" legging for nothing. These are also high-waisted with an elastic band, and are equal amounts comfortable and stretchy. The cozy material is high-quality and thick enough to ensure that you won't get any sudden rips or tears, and they'll stand their ground even after a few run-ins with the washing machine.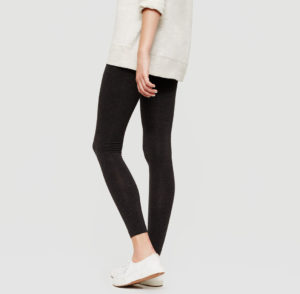 Lou & Grey Essential Leggings ($24.50)
Be sure to check out Jessica Alba's cool black booties and hats, gloves and scarves on sale.
[Photo: Trop Rouge]