I'm a mom, so I can speak from a place of authority and experience when I say candles are a no-fail gift on Mother's Day. Unless you know that woman absolutely, positively hates them, candles are definitely the way to go if you're looking to spark joy.
Now, deciding which candle to give is a whole different story. Because candles are more popular than ever these days, there are so many really amazing ones out there. Lucky for you, I did the hard work of narrowing down the best of the best for Mother's Day. The four candles below not only smell delightful, but they also boast really long burn times. Best of all? They're all $50 or less!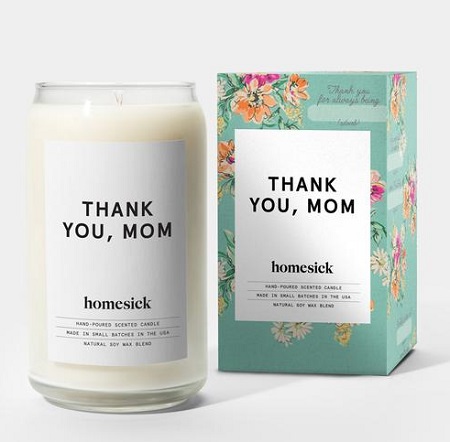 Homesick Thank You, Mom Candle ($29.95)
Homesick's brand new Thank You, Mom candle is a no-brainer. Not only is it perfectly packaged with a sweet, simple message, but the candle itself smells like a gorgeous bouquet of flowers that mom candle enjoy for days and days.
Pinrose Personalized Candle ($50)
If you're looking to make your gift extra special this year, customize a candle for the mom in your life over at Pinrose. Not only can you choose between two of Pinrose's most popular scents, but you can also personalize the candle with a picture.
THE RITUAL OF CHADŌ GARDEN CANDLE ($42)
If you're looking to impress a mom with really impeccable taste, look no further. Rituals' limited-edition Garden Candle is pure luxury. It's smells of calming, tranquil matcha and bamboo and is so massive that it will burn for 35 hours.
Bath & Body Works GINGHAM 3-Wick Candle ($24.50)
Gingham, the newest Bath & Body Works signature scent, is nothing short of magical. It's has notes of Blue Freesia, White Peach and Fresh Clementine, so it's light, fresh and perfect for spring. We also really love the pretty blue and white container design, which makes this candle elegant enough to put on display anywhere throughout mom's home.