Many people consider retailers like Sephora and Ulta to be the best places to get skincare products, but not everyone can afford those expensive price tags. If affordable skincare is what you're after, then we recommend checking the aisles of your local drugstore. Not only will these products not break your bank, but dermatologists, skincare experts, and customers say that they work better than some the fancier products on the market.
This is especially true for serums! These popular skincare products are sought out for their powerful anti-aging and hydrating properties. "Serums are simply an added step for those that have the right skin type and are looking to go the extra mile in their daily routines… [they] help give your skin a fresher, younger and healthier appearance," Dr. Carlos A. Charles, founder and medical director of Derma di Colore, tells Huffington Post.
So, how do you know which serum is right for your skin? Howard Murad, M.D., board certified dermatologist and founder of Murad, Inc., says it's all about the ingredients. "You have to look at the ingredients to make sure that not only do they address your skin concerns, but also that the product includes ingredients that make skin healthy," he explains. For example, antioxidants, like pomegranate extract, vitamin C and grape seed extract, are great for protecting the skin against sun damage. While anti-inflammatory ingredients, like zinc, arnica, aloe vera and goldenseal, work to reduce redness and prevent inflammatory cell damage. Another common group of ingredients in serums are hydrators including ceramides, amino acids and essential fatty acids, which all help build strong cell membranes and prevent dryness and improving the skin's moisture retention.
Now that you know what to look out for, here are the best drugstore serums that each contain these amazing ingredients and will totally transform your skin:
Neutrogena Rapid Wrinkle Repair Serum 
This serum helps improve signs of aging and delivers results of smoother, younger-looking skin in less than one week. It gets its fast-acting anti-aging properties from accelerated retinol SA, glucose complex, and hydrating hyaluronic acid.
Neutrogena Rapid Wrinkle Repair Serum ($17.25) 
Yes To Grapefruit Dark Spot Correcting Serum 
The Yes To Grapefruit Dark Spot Correcting Serum contains a powerful blend of fruit acids that help reduce hyper pigmentation, enhance radiance and correct skin damage. It's perfect for those who are looking to get rid of acne scars, sun spots and age spots without drying out their skin!
Yes To Grapefruit Dark Spot Correcting Serum ($10.24) 
CeraVe Skin Renewing Retinol Serum 
CeraVe's Skin Renewal Retinol Serum promises to reduce the appearance of fine lines and wrinkles, all while restoring your skin's natural radiance and revealing a youthful glow. It's formulated with three essential ceramides (1, 3, 6-II) that each work to rebuild the skin's protective barrier and deliver long-lasting hydration.
CeraVe Skin Renewing Retinol Serum ($14.37) 
The Ordinary 

100% Organic Cold-Pressed Rose Hip Seed Oil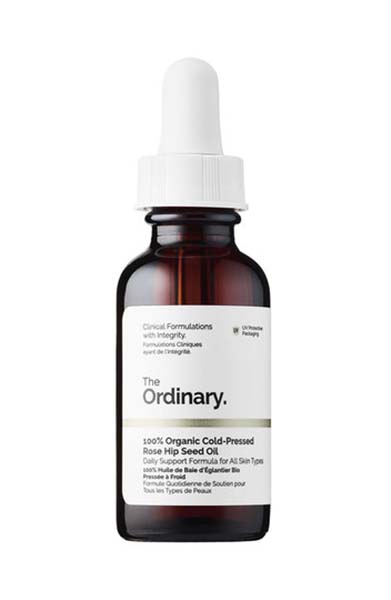 This serum works on all skin types and is even used by celebrities like Kim Kardashian! If Kim K. likes this product, you know it's got to be good! It features 100 percent high-purity, sustainably-sourced, organic, cold-pressed rose hip seed oil, which works wonders on reducing signs of photo-aging. This product is in such high demand that it's completely sold out at Sephora! Join their email list so you can be notified when it's restocked.
The Ordinary 100% Organic Cold-Pressed Rose Hip Seed Oil ($9.80) 
Pixi Skintreats Hydrating Milky Serum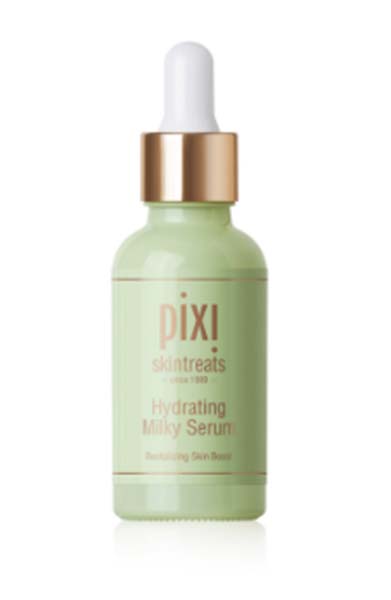 Aloe vera, vitamins C & E and jojoba oil come together in this popular serum to calm, nourish, and moisturize the skin. It's the perfect serum for those who experience dry, dull skin as it helps restores moisture, radiance and elasticity. Rosehip oil is also featured in the Pixi's Hydrating Milky Serum, which delivers hydrating nutrients to the complexion and helps plump the skin.
Pixi Skintreats Hydrating Milky Serum ($24) 
Looking for more amazing skincare products to add to your routine? We recommend checking out these celebrity-approved beauty hacks for younger-looking skin at SheFinds.com.
SheFinds receives commissions for purchases made through the links in this post.