You'll want to show off these compacts by Dolce & Gabbana. These pretty, shiny bronzer and eyeshadow duos are hot off the powder press–and cost a heck of a lot less than one of their equally luxe runway dresses:
Dolce & Gabbana Bronzing Powder ($47) gives you a glow, and makes your makeup bag look a lot more luxe.
Dolce & Gabbana Voluminous Lashes ($29) pumps up your lashes in one swoop.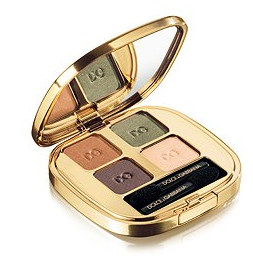 Dolce & Gabbana Smooth quad eyeshadow ($59) has you covered with all of the season's makeup trends in one palette.
If you're not ready to try the full-on matte lipstick trend, get started with this Dolce & Gabbana shine lipstick ($30)–it's semi-sheer.
See more of Sak's selection of Dolce & Gabbana's luxe makeup line here.
Check out our favorite traveling cosmetics bag by Kate Spade (it's clear!) and stylish laptop cases and overnight bags. See more travel beauty, too.