Drop everything you're doing– the iPhone 8 is finally here! It's been almost an entire year since the iPhone 7 and 7 Plus launch, and we're so ready for something new. While the new iPhone 8 and iPhone 8 Plus will cost you between $700 and $800, cases for the new gadgets found online come at a way cheaper price. So, there's no need to shovel out big money at your phone provider's store or at Apple when you pick up your new phone. Check out these stylish, and not to mention practical, iPhone 8 cases that will both protect and add some flair to the latest iPhone. It's time to get shopping!
The first iPhone 8 case comes from Caseology off of Amazon. This case adds a neutral color and design to your new phone, while still being extra protective of it. The case features shock absorbing dual layers and has impact resistant protection. It also features button covers and easy accessible cutout designs for your phone too. This one is definitely a steal considering it's less than $15.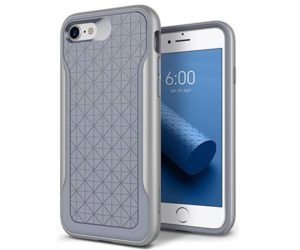 Caseology iPhone 8 Case [Apex Series] – Ocean Gray ($13.99)
We've got another case that will protect both the back and the front of your iPhone 8. Much like the Caseology case, Supcase offers a design that is made of shock absorbing material. It's slim and has both defined edges and a smooth finish. It also features an elevated bezel so that your phone has extra shattering protection in case it falls.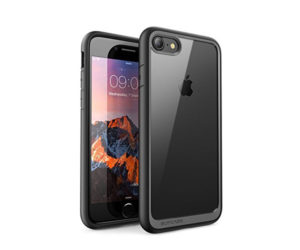 Supcase iPhone 8 Case, Unicorn Beetle Style Premium Hybrid Protective Clear Bumper Case ($14.99)
If you prefer a sleek minimalistic iPhone design, then we've got the perfect case for you! This clear Speck iPhone 8 case is a full two-layer case that includes an 8-foot drop protection. I mean, how amazing is that?! The best part is that it has free shipping and a lifetime warranty. You definitely can't go wrong with that.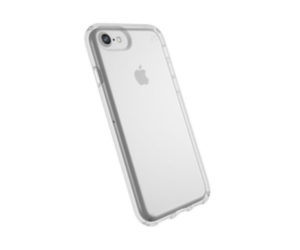 Speck Presidio Clear iPhone 8 Cases ($39.95)
Spigen offers some of the toughest iPhone cases around for the ultimate technology protection. Although it offers a lot of protection, it comes at the minimal cost of less than $16. This Spigen case features dual layer coverage and if that's not enough, it even has Air Cushion Technology in all four corners. Oh, and not to mention, it also has an angular grip and a kickstand for video viewing.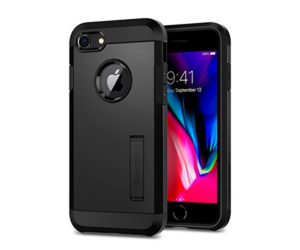 Spigen Tough Armor [2nd Generation] iPhone 8 Case (15.99)
There are also plenty of other iPhone 8 accessories that you can buy to upgrade your phone even more so. One particular accessory comes from Casetify, another popular iPhone case brand that is known for its modern and fashionable case designs. You can snag this trendy millennial pink leather iPhone credit card pocket accessory for an affordable price. It also has a sticky adhesive backing so it's super easy to attach one to the back of any iPhone case that you have.
We've got all of the latest iPhone news at SHEfinds, so don't worry, we've got you covered. Make sure to check out The Scary Reason You Shouldn't Use The Face ID Feature On An iPhone X, According To An Expert and 7 Things You Need To Know About The New iPhone X.
[Photo: Apple]