We know we need sunscreen for our skin, but what about our lips? It's so easy to forget that our lips are delicate, sensitive skin that definitely needs protection from harmful UV rays. Not only can exposure lead to unwanted cancers, but too much sun can leave your lips dry… or even worse, sunburned.
If you're wondering whether or not you really need SPF in your lip balm, the answer is a resounding yes! And to ensure your lips stay looking their best, we rounded up our favorite lip balms packed with SPF that will not only keep your lips hydrated and protected.
Kiehl's is a brand synonymous with skin and lip care. The Kiehl's Butterstick Lip Treatment with SPF 25 is a super nourishing combo of coconut oil and lemon butter (it keeps your lips hydrated up to 12 hours!) that has the SPF sunscreen protection we need. Bonus: it doesn't just come in clear. There are three other colored shades if you want a little tint!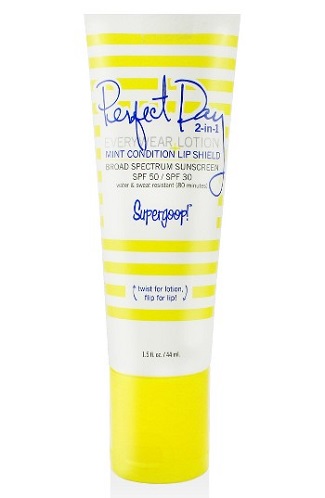 Wanna talk about a totally cool product? The Supergoop! Perfect Day 2-in-1 Everywhere Lotion & Mint Condition Lip Shield is not just a sunscreen for your skin, but it's also a sunscreen for your lips and it all comes in one easy to use bottle. The twist off cap for the SPF 50 sunscreen lotion doubles as the packaging for your very own Mint Condition Lip Shield in SPF 30. So basically, the perfect product for travel and daily use. This is definitely something you'll have to see (and try!) for yourself – oh, and it's under $20!
Clinique has a whole line dedicated to sun protection and the Clinique Sun SPF 45 Targeted Protection Stick is small so it can be used on any smaller areas you need to target with SPF… in this case your lips!
Be sure to check out the best bronzer sticks for a gorgeous summer glow and the 9 best lip scrubs that aren't too harsh.
SheFinds receives commissions for purchases made through the links in this post.