Some may call shoes without laces childish–but we call them genius! Slip-On sneakers are arguably one of the best sneaker styles ever invented; you don't have to worry about your laces coming undone, they're easy to put on and take off, and they're extremely comfortable. These stylish sneakers have become so popular that brands have made it a point to keep the shoes up-to-date with fun patterns, chunky platforms, and cool designs and colors. So, if you're looking for sneakers that are both stylish, comfy and trendy, look no further than the classic slip-on sneaker.
Here are our top picks for slip-on sneakers. Just one look at the reviews for these sneakers and it's clear that everyone loves this trend just as much as we do!
1. Steve Madden Gills Platform Slip-On Sneaker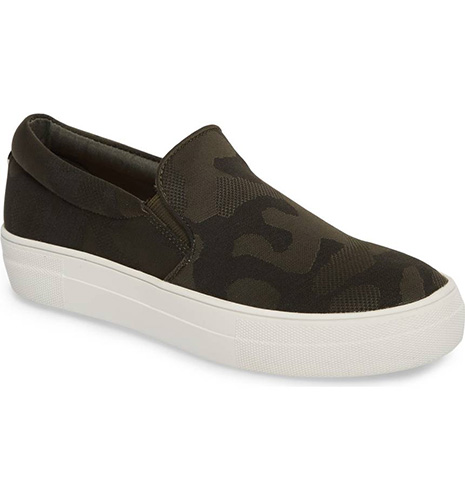 Steve Madden Gills Platform Slip-On Sneaker ($79.95)
Steve Madden has made the perfect slip-on sneaker with a comfortable padded collar and velvety suede material. Choose from "Camouflage Faux Leather" (pictured), "Black Suede," "Grey Suede," "Leopard," and "Natural Snake."
"Best slip-on. Great fit and felt like I had worn these for years. The camo color is perfect." -DaisyFro
"I love these shoes! They are comfortable and go with any outfit. I'm a teacher so I'm on my feet all day. I've been wearing them to work and they still feel good by the end of the day!" -MeggyMae
2. Forever 21 Slip-On Metallic Sneakers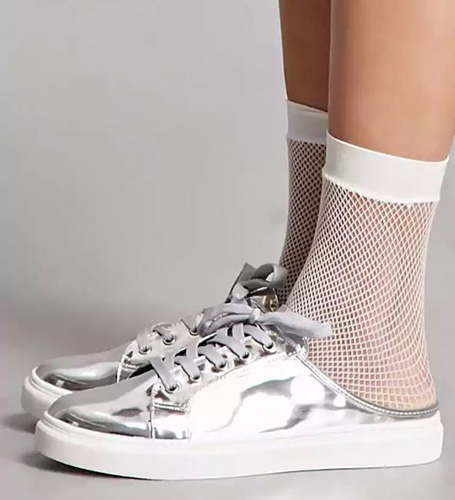 Forever 21 Slip-On Metallic Sneakers ($24.50, originally $35)
These metallic Forever 21 sneakers feature a true slip-on design, matching laces, and a contrast sole. If you love these sneakers get them NOW because they're low in stock and on sale!
3. Mossimo Supply Co. Reese Slip On Sneakers
Mossimo Supply Co. Reese Slip-On Sneakers ($21.24, originally 24.99)
The sporty-yet-chic Reese Slip-On Sneakers feature a quilted upper that pops, elastic inserts for a comfortable custom fit, and rubber outsoles for traction. Colors come in green (pictured), pink, and metallic gold. The best part about these sneakers? They're 15% off!
"Love these. And you can't beat the sale price I got!! So comfy!!" -Ann
 "The blush color is kickin'. I agree they run large but I ordered online and these shoes are a great value. I bought them mainly to dance in and as an alternative to sandals when I'm going to be walking around. I wore them with white socks and they actually look better with socks and were comfortable for dancing all night." -pamster
4. Vans Embossed Classic Slip-On Platform Sneaker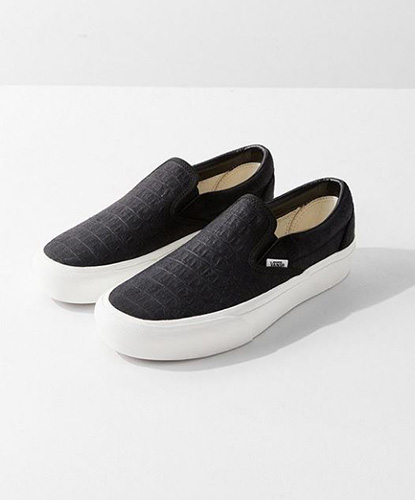 Vans Embossed Classic Slip-On Platform Sneaker ($65)
Vans are basically the OG classic slip-on sneakers. We love these classic slip-ons with embossed suede uppers and a high platform. These sneakers also feature elastic inserts for a snug fit and cushioned footbeds for comfort.
5. ASOS DAHLIA Slip On Sneakers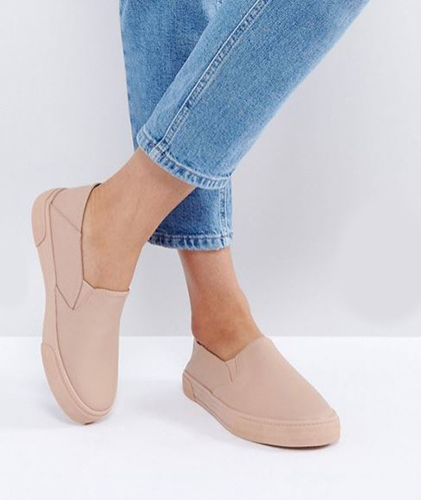 ASOS DAHLIA Slip On Sneakers ($29)
These nude, faux leather slip-on sneakers have a softer silhouette than most classic slip-ons. Elastic inserts make these slip-ons super comfy and the textured threading give them a unique look.
Whether you're dressing them up with jeans and a blazer, or wearing them down with leggings and a sweatshirt, slip-on sneakers are the one shoe you need to look on-trend and laid back!
Also, make sure you check out New Balance's new glitter sneakers at SheFinds.com!
SheFinds receives commissions for purchases made through the links in this post.