Essentials oils show up in the ingredients of products we use every day at home. This includes household products like detergent, candles and toothpaste, and beauty products like deodorant, perfume and body lotion. According to Plant Therapy, "an essential oil is a concentrated, volatile, aromatic liquid that is obtained from the fruits, seeds, flowers, bark, stems, roots, leaves or other parts of a plant." These oils have healing properties that can provide medicinal and health benefits that can ease your stress, enhance your mood and help you fall asleep! So, it's not hard to see why more and more people are hopping on the aromatherapy train. With hundreds of different oils out there, it can be hard to figure out which ones you should start using — especially if you're an aromatherapy beginner. Don't worry, we won't name hundreds of essentials oils here, but these are some of the best smelling (and best for you!) aromatherapy oils:
1. Lavender
Lavender is one of the most popular essential oils. It is well known for its relaxing and stress-relieving properties, which is why it's used in all of those calming body washes and lotions, as well as its therapeutic properties. According to Aromatherapy.com, lavender also has "antiseptic, antidepressant, anti-inflammatory decongestant, deodorant, diuretic and sedative" properties. Popular uses for lavender include  massage oils, lotions, creams, and air fresheners.
2. Peppermint
Peppermint essential oil is well know for its energy-boosting properties. According to Aromatherapy.com, peppermint "is a cooling agent that enhances mood, sharpens focus, combats irritation and redness, alleviates symptoms of congestion, and aids in digestion." Uses for peppermint include scalp oils, hair rinses, creams, and diffusion.
3. Tea Tree Oil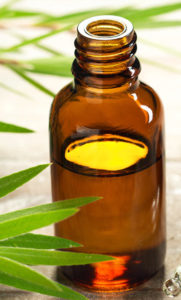 Tea tree oil is one of my favorites. Because of its antibacterial properties, it is used commonly in natural deodorants, shampoos, astringents and even toothpaste. "Not only is [tea tree oil] a natural immune booster, but it also fights all three kinds of infection," reports Aromatherapy.com. "It works to heal skin conditions, burns and cuts, and also works as an insecticide. In addition, it helps to soothe and treat cold sores, respiratory conditions, muscle aches, the flu, Athlete's foot and dandruff. Its uses are vast and its healing power is quick." Tea tree oil also makes an excellent spot treatment for stubborn pimples, too!
4. Sweet Orange
According to Natural Living Ideas, sweet orange oil has sedative, antidepressant, antiseptic, and anti-inflammatory properties just to name a few. The sweet, citrusy smelling oil is good for body oils, air fresheners, cleaning sprays and perfumes. Dr. Josh Axe also says that sweet orange oil can fight cancer, increase circulation, reduce the appearance of wrinkles, and ease anxiety.
5. Rosemary
Rosemary isn't just an aromatic herb for seasoning food! "Widely known as a mental stimulant, the antidepressant properties of Rosemary oil make it ideal for enhanced memory, focus and overall brain performance," Aromatherapy.com reports. "It also acts as an analgesic, soothing aching, cramping muscles, headaches and migraines." Use rosemary in a diffuser to boost your mood or add a few drops in your next bubble bath.
Find out how you can use these aromatherapy oils to make your own essential oil candle at SheFinds.com
[Photos: Shutterstock]