We all deal with stress (some of us better than others). In fact, according to the American Institute of Stress, 77% of people regularly experience physical symptoms (fatigue, headache, muscle tension) caused by stress and 73% of people regularly experience psychological symptoms (irritability, anger, nervousness) caused by stress. Whether it be from work, school, a lifestyle change, or financial struggle, stress is something we all wish we could avoid. Although stress is practically inevitable, there are ways to manage it. Yoga, meditation, and aromatherapy are just a few ways you can tackle stress. But, for people who may be too busy to incorporate these practices into their hectic schedules, these items may be a temporary fix. They're small enough to carry in your pocket or in your purse, and can help offset symptoms of stress at work or on the go.
Stress Relief Fidget Spinner
Fidget spinners have become a popular gadget amongst young kids. While there are no studies that show they help reduce stress, fidget spinners may be a great gadget if you're feeling fidgety as a result of stress, nervousness or anxiety. "If something is not able to hold our attention, fidgeting increases attentiveness by distracting the part of the brain that is 'bored' in order to allow the other parts to focus,"
The Varsity
reports. "Fidgeting is also a natural response that helps manage high levels of stress." Just try a couple of spins, and you'll notice that your fidgeting will stop and you'll feel more at ease!
Stress Relief Squeeze Ball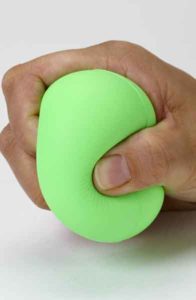 Squeeze balls are a classic stress relief tool that many people actually swear by. "The benefit of squeezing is that it releases some kind of energy — it also induces you to relax," says stress expert
Dr. David Posen
. Plus, you can use one almost anywhere!
Stress Relief Fidget Cube
Not exactly a cube, but a dodecagon. This 12-sided toy features gears, buttons, joysticks, switches, and more for fidgeting. This toy is perfect to use at your desk for a stress-free workday.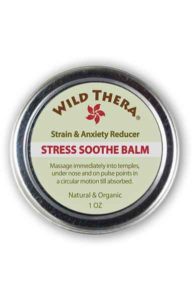 Wild Thera Stress Soothe Balm ($14.99)
Aromatherapy is a common practice that can help de-stress with essential oils and natural fragrances. Soothing chamomile and lavender in this balm help de-stress and relieve anxiety. According to wellness physician Dr. Josh Axe, lavender oil is "considered a nervous system restorative and helps with inner peace, sleep, restlessness, irritability, panic attacks, nervous stomach and general nervous tension.
Crazy Aaron's Thinking Putty ($11.99)
Remember how fun it was to play with Play-Doh as a kid? Well, now there's something similar for stressed-out adults. There's something comforting and relaxing about squeezing soft, squishy material. If your job is stressful but requires you to be on your toes intellectually, Crazy Aaron's Thinking Putty will get your creative juices flowing. Goodbye, writer's block!
Not only do these items help minimize or eliminate stress, they also boost memory, attention, and productivity The Atlantic reports. So, take our advice, if you're feeling anxious, or nervous, or antsy, try one of these stress-relieving items!
Be sure to check out these stress-relieving and mind-calming candles and more at SheFinds.com!
[Photo: Shutterstock]