Weighted blankets are trending big time these days because they're scientifically proven to provide an overall sense of calm and help you sleep better. Sound like something you (or someone you know) could use? We scoured the Web to find the best weighted blankets, as reviewed by real shoppers like you and me. Check them out below:
The Best Weighted Blankets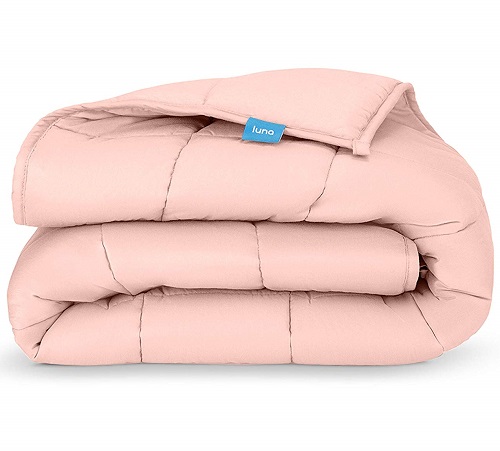 LUNA Adult Weighted Blanket | 15 lbs
Highlights: Crafted using OEKO-TEX certified cotton; filling is an odorless, hypoallergenic and non-toxic, premium-grade glass bead; carefully constructed for breathability
"After reading other reviews on weighted blankets, I decided to go with Luna. (I have bought two now, one as a gift) I love that the material is organic cotton, and the beads are not made of plastic. The material is cotton so it is light but strong. I have used this blanket for 3 or so months now. Having battled insomnia, restless legs, joint pain, and muscle pain, I had read that a weighted blanket could help. Honestly, I hardly have sleepless nights now. The blanket isn't too heavy but just heavy enough. I did get the 15lb , technically too heavy for my weight according to studies, but I love my blanket!! Before I had this blanket there were many nights I was awake until 3 am due to insomnia and pain. Now, usually within a half hour of winding down, I am alseep! It calms my restless legs , and really lessens muscle and joint pain! Blanket is sturdy, holding up well. Totally worth the money." – Sunshine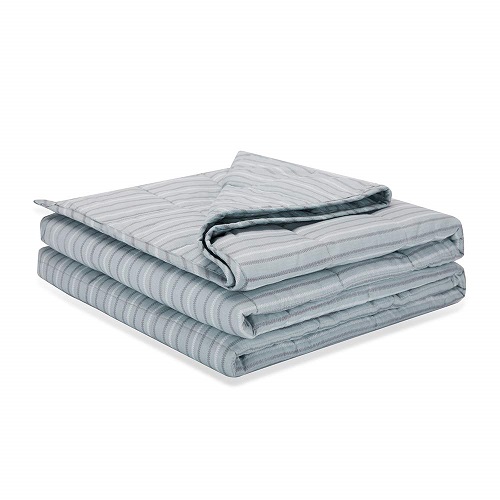 Idea Queen Weighted Blanket Adult 15 lbs
Highlights: Made from a high-quality, super soft, and cozy 100% natural cotton; superior breathability makes it ideal for bedding all year round; can be used for sleeping and/or lounging
"I ordered this weighted blanket in grey, in the 48″x78", 15 lb, size from Amazon. I am a female, weighing 145 lbs.

I chose this weighted blanket over others based on price, reviews, and the money-back guarantee. I was a little apprehensive about ordering this online. However, I wasn't disappointed. The delivery was as promised. I wanted the blanket to help me with anxiety. I haven't slept with it as much as I have used it during an anxiety attack…either in bed or on the couch. It's heavy, but not too heavy. My husband tried it while napping and loved how it gave that weight and also kept him in one place, versus rolling over onto his side or onto his stomach. He said it provided a better quality sleep. I am happy that I purchased this blanket!" – Kay
Therapedic® Reversible Weighted Blanket
Highlights: Glass pellets add weight to create a calming and relaxing embrace for a better sleep experience; removable, washable cover; available in five weights; limited lifetime manufacturer's warranty
"Great weigh blanket its super soft and cozy. This blanket has helped me a-lot with my anxiety, every time i feel my anxiety coming i lay down and put this blanket over and i feel it going away. Being pregnant and having anxiety is not easy so i can really say that this has helped so much because before owning this it would be a while for my anxiety to go away." – Lizzy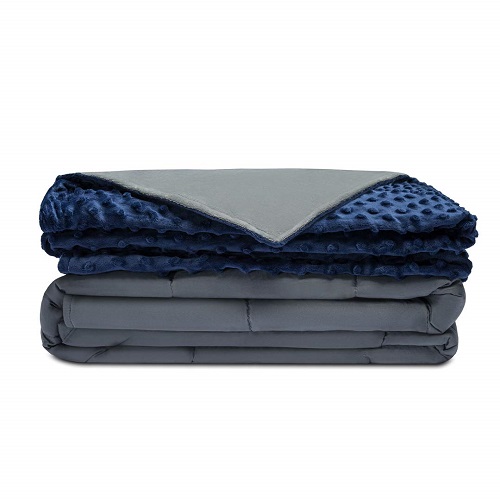 Adult Weighted Blanket & Removable Cover | 20 lbs
Highlights: 7-layered blanket is designed to offer supreme comfort; ultra-breathable, 100%-cotton outer layer; removable minky duvet cover is soft-to-the-touch, super-comfy and accompanies every purchase
"I've been researching weighted blankets for over a year. Many of the reviews I read mentioned unnatural shifting of weight distributed within the quilted chambers, leakage of weighting materials, poor sewing quality, having to buy separate (and expensive) covers, etc. This blanket has none of those issues. It is VERY WELL MADE and I'm sleeping BETTER than ever before. The extra attention to detail is apparent. The corners and side of the blanket have sewn-in tabs that allow you to tie and then zip the blanket securely inside the cozy, soft cover. It's attractive and looks like a regular blanket on the bed. I have to say that this blanket is one of the BEST investments I've made, hands down! It's worth every penny." – Teacherandstudent
Highlights: Filled with premium glass beads; 2-piece weighted blanket system with a removable core and a machine washable duvet cover; duvet cover is machine washable
"I have been endlessly searching for an oversized weighted blanket for my king size Original Purple mattress. I have GAD, and deep pressure therapy as always been my go to when I have panic attacks. I've read that weighted blanket do wonders for this method of anxiety relief. With this comforter, I sleep extremely deep and wake rested without the onset of my symptoms. If you are deciding if this blanket is worth the price, I can tell you that it is. The weight is so evenly distributed, and it is so cozy. My fiance said "it's not a 'hot blanket'" as he stayed cool and comfortable all night. This is the best $298 I have ever spent." – Brenna
SheFinds receives commissions for purchases made through the links in this post.