Well, the weather outside is becoming frightful with the temps dropping by the day. And if you're a city-dweller like myself, you know that only means one thing: snow is coming! But with it comes the freezing rain, sleet, slushy mud, and black ice that go hand in hand with a bitterly cold winter, which is why it's so important to have boots that will help you brave the worst of it. Lucky for you, I've done the research for you, and here are the four boot styles that you need in your closet ASAP to keep you warm and dry (in style!) until the first day of Spring.
1.An Amazing Snow Boot
There's nothing more annoying (or uncomfortable!) then sloshing around in the snow with the wrong shoes on, which is why if you live in an area that tends to get a few inches, you must own a quality pair of snow boots. Let me suggest the Khombu Jilly Boot.
I actually took these boots out for a spin during the first snow of the season in New York, and they're legit! These stylish, lace-up duck boots are the perfect option for light to medium snowfall coming up to mid-calf and offering just the right amount of coverage. But the faux-shearling lining is what really made me fall in love with them.
These insulated boots really do keep your feet warm and toasty while you're ankle deep in snow. And they also have a no-slip grip on the sole that kept me from sliding on some icy sidewalks. The only caveat: they don't come in half sizes, so go ahead and size up. It worked out fine for me.
2. The Everyday Cold Weather Boot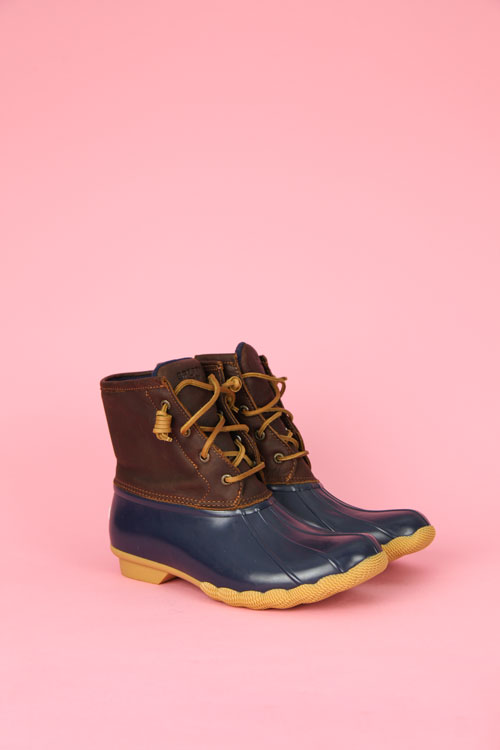 Regardless of what the weather is like in your area, rocking your regular old shoes outside when the streets and sidewalks are stone cold just doesn't cut it. So you definitely want an everyday pair like Sperry's Saltwater Duck Boot that can hold their own in the rain and the slush. And I suggest you find a pair of these fast!
First off, they're super cute and come in tons of fun color combinations, so you'll have no problem mixing and matching your chosen boot with your winter wardrobe. I know I didn't when I tried these waterproof booties out on a chilly December afternoon.
These duck boots are incredibly lightweight for a waterproof boot and don't feel clunky at all. In fact, the fit is cozy, and the barrel tie lacing keeps you from having to deal with the hassle of loose laces. Even better, these boots have a micro fleece lining to keep feet warm. Plus, they also have Sperry's signature Wave-Siping™ to make sure you have traction on both dry and wet surfaces, which means you can wear these boots from season to season.
3.A Multipurpose Snow Boot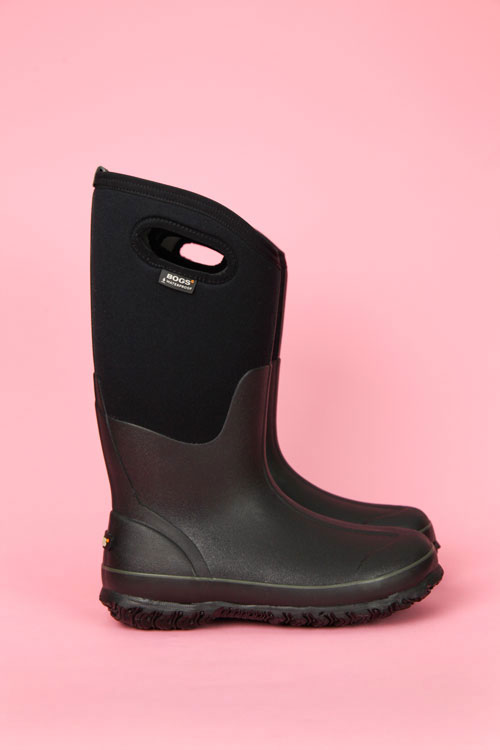 Admit it: We all have those boots that should only be seen and not tested against the weather! So finding a winter boot that can withstand a heavy snow plus rainfall is a huge win/win, and I think I've found the boot that you should consider putting in your cart–the BOGS Classic Mid High Snow Boot!
These tall boots are a keeper. They may look like and slide on like rain boots, but they're so much more. They're made out of rubber and neoprene, a fabric that's waterproof and super flexible. I'll co-sign, as I had room to bend around and maneuver more than any rain boot that I've ever owned, which will come in handy when I'm trekking through several inches of snow in January. In addition, these boots have been tested up to -40°F and have a no-slip rubber sole to keep you from taking any falls. And while they don't have half sizes, they do run big, as I was comfortable going down to a 9 from a 9 1/2.
4.A Stylish Rain Boot
Every woman needs a good pair of rain boots. After all, no one wants to ruin their favorite pair of boots with water damage. And these stylish Aeriel Beck Waterproof Bootie from Sperry should be on your radar right now.
Think about it: you don't always have to deal with snow, but by the end of winter, the rain starts falling as the weather transitions. So snagging this moto-inspired boot is a good idea. I also tried out these boots, which you do have to break them in at first since they can be a little stiff on the shaft. But that's a small price to pay as these sleek boots are the definition on fashion and function in one shoe. Though, what separates these rain boots apart from the rest is that they're waterproof with a comfy rubber sole to walk in, and they're also fleece lined, which is something most rain boots don't offer. Basically, you can literally wear them all year long.
And now is the time to stock up on a few (or all!) of theses winter boots while there are tons of after-Christmas and end-of-the-year sales going on right now. Grab some of these amazing boots ASAP! I guarantee that you won't be disappointed.
[Photos: Shelby Rodriguez]
SheFinds receives commissions for purchases made through the links in this post.