Do you secretly dream about being Beyonce? We can't help you with your singing or dancing skills, but we can help you copy her amazing wardrobe. After killing it at Gucci's Chime For Change concert in London, Beyonce headed back to NYC for date night with her hubby. She was spotted wearing her favorite white Helmut Lang blazer. Beyonce styled the blazer perfectly, pairing it with leather shoes and mint green pumps. She's also worn the same blazer in several different styles, including an oxblood version and a black version with leather sleeves.
Beyonce's white Helmut Lang blazer is perfect for summer AND it's on sale. Regularly-priced at $645, the blazer is currently marked down to $259. It's still pricey, but it's a steal considering it is over 50% off. If $259 is still out of your price range, don't worry. You can give try these similar tuxedo blazer styles.
Check out Beyonce blazer below: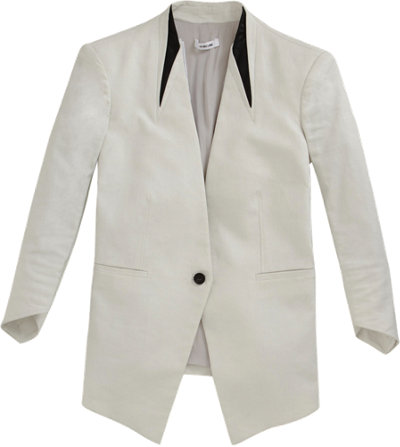 Helmut Lang Pointed Cuff Blazer ($259, down from $645)
Are you crazy in love with Beyonce's style? Check out her matching shirt and pant set, her tropical print pants and her Rent The Runway boutique.
Read more at StyleCaster.com.