Beyoncé's Yours & Mine Set Is A Gift Even Valentine's Day Haters Would Want To Get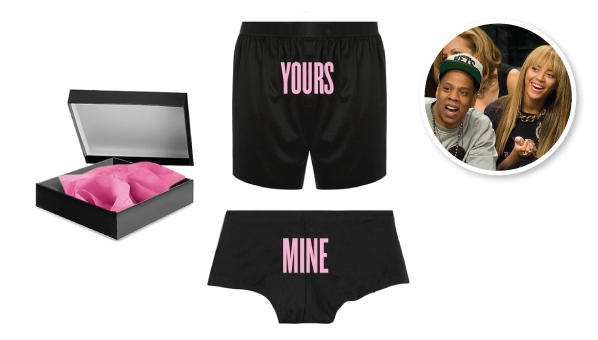 Stumped on what to gift your significant other on Valentine's Day? BEYONCÉ TO THE RESCUE. Last month, the singer released an offering of black sweatshirts, emblazoned with key phrases from her self-titled album in pink lettering. But if you don't want to walk around with "Surfboard" and "Flawless" on your chest (weird that you wouldn't, but whatevs) give the Beyhive member in your life (or yourself, if you happened to be part of this esteemed clan) something that says "I love you, and so does Beyoncé."
Behold: the most romantic addition to the Beyoncé merch store; the Yours & Mine Box Set ($40), inspired by the Drake-penned song on the album. Each set comes with a pair of boxers and boyshorts and is available in six different combos. So no matter who is "yours" or who you belong toooo, there is something that works for all couples. Sure, $40 a pop is a little pricey, but when it comes to Bey merch, money should be no object.
SHOP BEYONCE "YOURS" AND "MINE" BOX SET HERE
For more Beyoncé, find out where to get her EXACT AM Eyewear shades, Her $10 million-dollar Grammy jewelry game, and the 2014 Beyoncé calendar that should be hanging on your wall right now.
[Photos: Splash News]