Bid On Lady Gaga's Space-Themed Looks From Her Harper's Bazaar Cover Shoot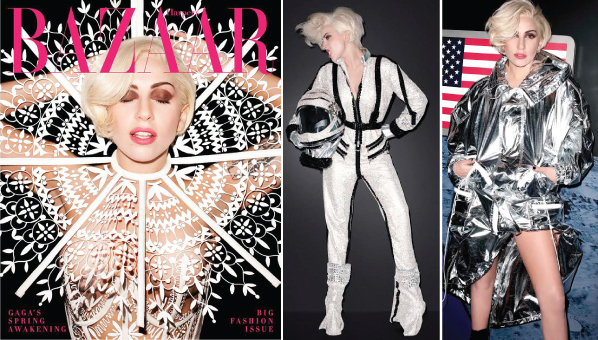 We all know Lady Gaga wears some pretty insane outfits, like a Christmas tree on top of her head. So when you hear the words Lady Gaga and Harper's Bazaar, you're probably expecting something out of this world–and you're right. Literally. The singer takes on the cover AND her own spread inside the mag's March issue, and the theme is Lady Gaga's moon landing adventure, at least that's what we're calling it.
But that's not even the craziest part. There's an eBay auction going on right now where you can bid on a selection of looks and accessories from the cover shoot. Yes, you can be the proud owner of this Versace Sequined Jumpsuit ($2,800), Emilio Pucci Silver Metallic Coat ($1,750), Alexis Bittar Metallic Space Helmut ($2,000) and more. All proceeds from the sale will benefit Gaga's charity, the youth-empowering Born This Way Foundation. Come on, how can you resist a Gaga-approved space helmet when it's for a good cause?!
BID ON LADY GAGA'S WARDROBE NOW
And don't forget to check out: Michelle Rodriguez and Cara Delevingne are officially together, the full MFW live stream schedule and pre-order Alexander Wang Fall 2014
[Photos: Harper's Bazaar]