With warmer weather soon approaching, it's time to break out beauty products that protect your skin from the sun. Believe it or not, there are loads of amazing skincare products that have SPF already built right into them. My current favorite? Bliss' Triple Oxygen Ultimate Protection Moisturizer with SPF 33.
Every woman knows that moisturizer is totally essential to keep skin soft, smooth and hydrated, but this one extra special because it's formulated with SPF 33 to protect from UV rays and environmental aggressors. I personally love the fact that I don't have to put a sun protecting product over my makeup or skincare products, reducing the layers I apply. Any product that is 2-in-1 is good in my book.
My absolute favorite part of using this moisturizer, however, is that it doesn't leave greasy residue on your skin or make you look extra oily like other moisturizers–especially those with SPF–tend to do. It actually absorbs and dries really quickly. I just applied a small amount on your face, massaged in evenly and within minutes my skin looked and felt hydrated and super soft.
With hot summer weather just a few weeks away, you're going to need to be more diligent about protecting your skin from the sun's rays, so this moisturizer is a no brainer. Apply it like you would any normal moisturizer, except that this one also keeps your skin is protected from UV rays, too. I was ready for a product that not only moisturized my skin, but also protect it, and I'm so glad I tried this incredible product. Bliss does it again!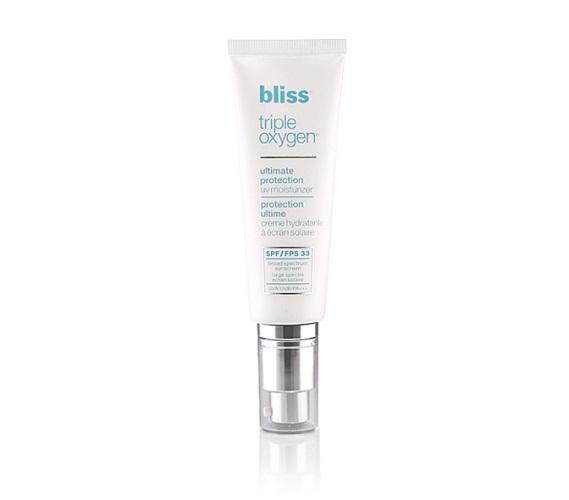 SHOP BLISS TRIPLE OXYGEN MOISTURIZER NOW
Be sure to check out the best drugstore beauty products and how to pull off cuticle art.
[Photo: Bliss]
SheFinds receives commissions for purchases made through the links in this post.