It's about time vending machines start selling something with zero calories. According to WWD, The Body Shop will roll out vending machines filled with their beauty products in airports, grocery stores, and shopping centers around the country.
This is good news because: (1) Beauty salespeople are annoying. (2) Malls are annoying. (3) The next time the airline loses our luggage, we'll have a good excuse not to be annoyed, and actually use one of these vending machines.
We've rounded up our favorite Body Shop products that would be especially nice to buy from a vending machine:
The Body Shop Satsuma Body Butter ($20) is rich and creamy with an exotic, fruity scent that smells so good, you'll be tempted to eat it.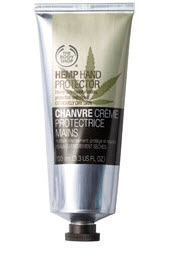 Traveling or running around means lots of hand sanitizer and dry hands, so a good hand cream like The Body Shop Hemp Hand Protector ($10) is a must when you're too busy to seek out a store.
Double duty makeup like The Body Shop Lip & Cheek Stain ($14) is great when you're in a pinch.
Tinted moisturizers can be expensive, but The Body Shop Glow Enhancer ($14) is affordable, and will instantly make your skin look even when you need a quick pick-me-up and you don't have your makeup on you.
Get updated on what's happening in our news section, then find more instant uplift products in our best concealers and best travel beauty buying guides.