If you think all socks are the same, you're wrong. Sorry to be blunt, but the fact is some socks are just superior to others. Chances are, most of the socks you own are from a brand that just so happens to make socks to sucker you into buying them while you're on the checkout line. It's a mistake we all make, but I'm here to help you see the light. If you want to experience really, really good socks, you need to get them from a brand that specializes in just socks. And that's Bombas.
The team at Bombas spent two years rethinking socks. Not only did they create a unique design that grips your foot in all the right places, but they even found a way to make that annoying toe seam disappear. All in all, Bombas socks include seven design, performance and comfort improvements to traditional, everyday socks.
If that's too technical for you, I'll just tell you how they feel on your foot: amazing! I low key love socks; I probably own more than 40 pairs. But the fact is, Bombas are the best socks I own. They're thick, yet stretchy so your toes never feel constrained. And you know how some socks start to get thin and worn after a few rounds in the washing machine? Doesn't happen with Bombas. I've had one pair since 2017 and there isn't a hole in sight! As for the support, the only way I can describe how supportive these socks are is to say that they hug your feet. It honestly feels like your feet are being wrapped in soft wonderfulness.
As if that wasn't reason enough to treat yourself to a pair, here's something else you should know about Bombas: for every pair of socks purchased, they donate a pair to someone in need. Socks are the #1 most requested clothing item at homeless shelters, so shopping Bombas means doing your small part to help people in need.
Here's where things get hard. Bombas has so many styles, colors and patterns to choose from, that it can sometimes be a bit hard narrowing down the options. So I'm gonna help you out.
These are Bombas' new Merino Wool socks and they're a bit thinner than the other styles which makes them perfect for wearing with booties.
The triblock ankle socks are, hands down, the best socks to exercise in. Or, you know, just wear with sneakers and pretend like you just worked out.
You know how you never know what to wear with knee-high boots and rain boots? These knee-high socks. Now you know!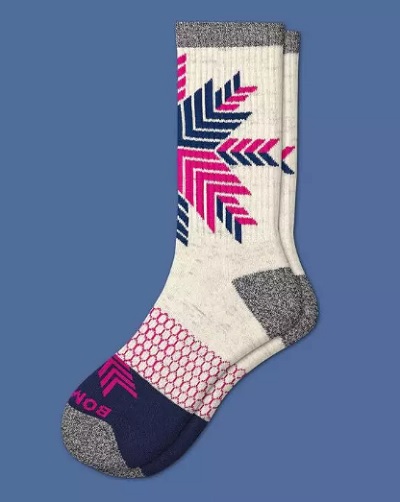 Snowflakes socks? Wear them on Christmas morning, duh?!
The editors at SheFinds wrote this post on behalf of Bombas and received compensation as part of our agreement.