Mini champagne bottles
: It is a celebration, after all! Mini champagne bottles are a fun alternative for serving the bubbly. [
Ruffled Blog
]
Bourbon bar: If you're in Kentucky or having a Southern-themed wedding try a bourbon bar. Old Fashioned's and Mint Juleps are all made with bourbon, so be sure to have mint and sugar on hand, as well as bitters, orange slices and maraschino cherries.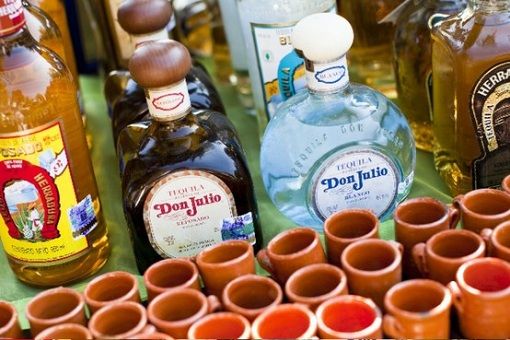 Tequila bar: You'll need at least three different kinds of tequila. You'll also need Cointreau, simple syrup, lemon and lime juice. For garnishes, include lemon and limes, salt, tabasco sauce and agave nectar. Help guests out by posting the directions for the perfect margarita. [Peppermint Bliss]
Wine Bar: This is a great idea for a vineyard wedding. Offering a few premium wines is a sly way of keeping alcohol costs down. Buy a few cases and offer red, white, sparkling, etc. You can send guests home with extras in these tote bags. [Style Me Pretty]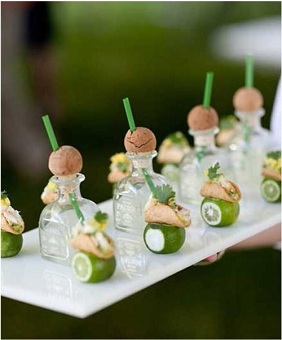 Late night tequila shots: Another idea is to hand out mini shots and tacos on the dance floor to keep guests moving and grooving. Buy mini bottles of patron and have your event staff hand them out when everyone is dancing after dinner. [Pinterest]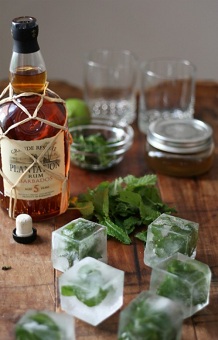 Mojitos: Mojitos are a classic summer drink and an easy signature cocktail. You'll need rum, sugar, lime juice and soda. We found a recipe that freezes fresh mint in ice cubes and then uses them in the drink. Genius! [17 Apart]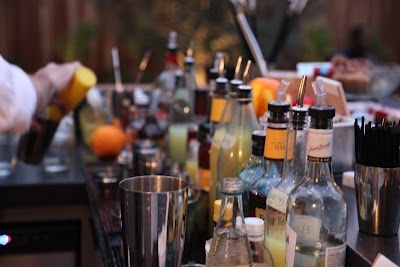 Speakeasy: Load up on the gin, giggle water and even absinthe if your wedding has a 1920s theme. Old Fashioneds, dry gin martinis and Manhattans were all big hits during the flapper era.
Soda bar: A soda bar will be a big hit if you have a lot of kids coming to the wedding -- or teetotalers. The key is to find brands that come in interesting glass bottles and not cans. Try brands such as Boylan's, Izzie or even Crush.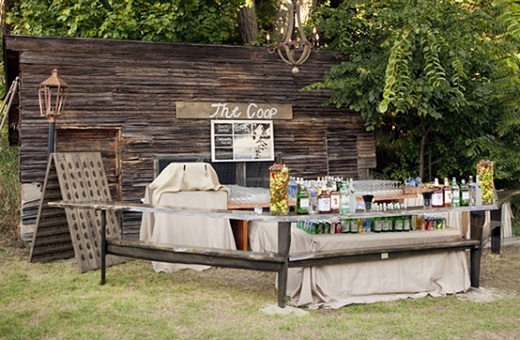 Rustic bar: If the location for your rustic wedding has a lot of open space, create a corral for the bar. Cover tables with clean burlap and put wild flowers in jars. Galvanized tubs can be used to hold bottles of beer. And don't forget some signage! [Green Wedding Shoes]
Punch bar: Another spin on a signature cocktail is to create a punch bar. Guests can take as much or as little as they like, and are clearly free to go up for seconds. Bonus points for using mismatched, vintage punch glasses. Click here for a list of punch recipes for different seasons. [Wedding Chicks]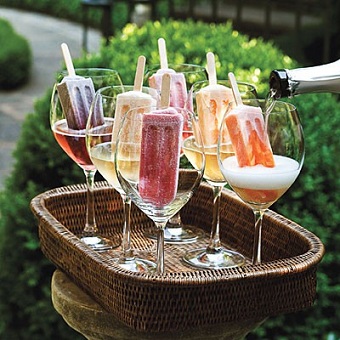 Popsicles: Popsicles set in a splash of Prosecco is a sweet idea for dessert -- especially in summer. If you are a DIY bride you could even make your own popsicles with seasonal fruit. Check out this one that uses blueberries. [Southern Living]
Martini bar: Guest can get in touch with their inner Don Draper when you build a martini bar. You'll need gin and vodka as well as garnishes such as olives, vermouth and lemons. Don't forget the shaker! Dress up the area with a neon martini sign or other signage.
Dessert drinks: Dessert drinks such as fruity wines and digestifs make for a creative send off. Stock the bar with brandy, cognac, sherry, vermouth and port wines -- with proper barware. Include crystalized rock candy for a little sweet.
Galvanized tubs: A practical way to store beer and other bottles at a rustic themed, outdoor or summer wedding. You can stock up on them here. [Wedding Chicks]
Boat bar: A nautical themed wedding can stash beers throughout the venue in tasteful boats. You can buy them made to order without breaking the bank. [Style Me Pretty]