Bumble & Bumble's Spraychalk debuted a few weeks ago at the Ohne Titel show during New York Fashion Week. Hairstylist Jimmy Paul streaked models' hair with this new product to compliment the architectural feel of the collection, and it looked super fun:
Models like Chloe Norgaard have been sporting crazy colored hair for quite some time now, so it's not a new trend. But prior to Spraychalk, the process involved using semi-permanent dye that dried the hair out or messy hair chalk that didn't really do the trick. Bumble & Bumble's version is way easier. It sprays directly onto dry hair and washes out completely with just one shampoo. It's basically like fun-colored dry shampoo. You can also opt to spray it up close for a more pigmented look, or further away for a more subtle look.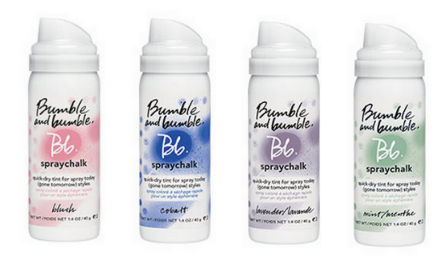 The Bumble & Bumble Spraychalk Collection ($19 each) includes colors Blush, Cobalt, Lavender and Mint (pictured above). And now you can get Katy Perry and Amanda Bynes hair for Halloween without damaging your hair or having to walk around days after with bright blue or pink hair. What do you think? Would you try these fun Spraychalk shades?
For more beauty tips, check out: the right order to put on your makeup, the best weird beauty advice and how to prevent dark polishes from staining your nails.