We would never miss an opportunity to help you get your hands on the latest Urban Decay Naked palette. Every girl deserves to own at least one Naked palette (if not all!), and the Naked Heat one just might be their best one yet. This new summer palette launched 10 days ago–and sold out immediately (of course). It was completely gone in 13 hours, leaving Naked fans wondering how they could get their hands on a set. Exciting news–you still can! And we're here to tell you how: 

But first of all–what is the Naked Heat? Like the other Naked eyeshadow palettes, it's a sleek palette of rich, velvet-y eye shadows in a range of neutral shades. It comes with a full-size mirror and double-ended brush–making it perfect for on-the-go. There's a blending brush and a detailed crease brush for perfect application. The shadows themselves stay in place for hours and blend perfectly, thanks to Urban's proprietary UD's Pigment Infusion System™ (I know, so fancy).
Speaking of the shadows, we've got to call out the range here. There's everything from a red-brown matte to a glimmering copper and a deep, shifty bronze. You will look so good riding around in the drop top this summer with bae listening to Calvin Harris "Feels" rocking the En Fuego (a matte red) or Scorched (metallic deep red with gold micro-shimmer). All the fire emojis!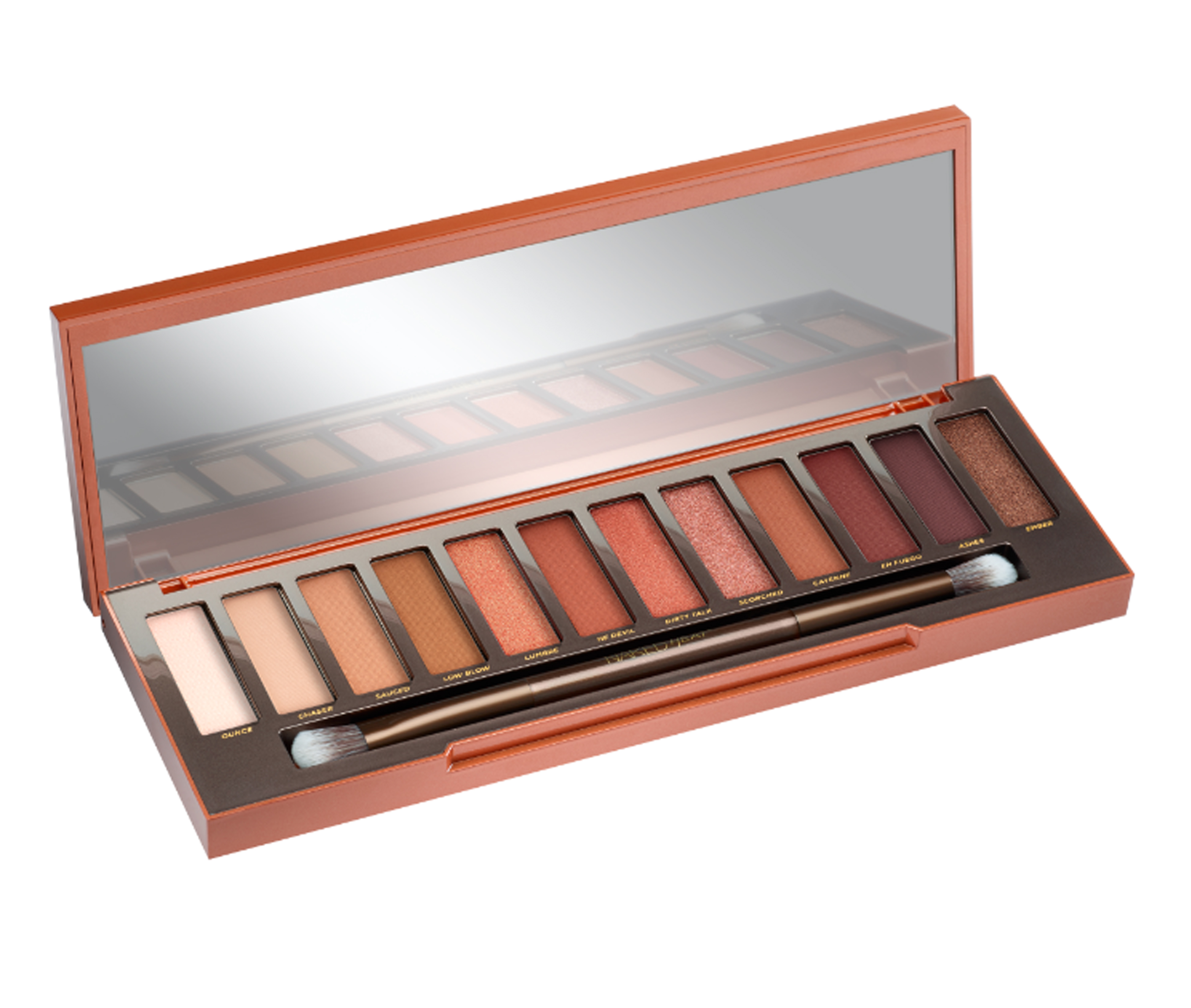 The Heat palette is, "The most shade-driven Naked Palette UD has ever done," according to the brand; meaning it deviates outside the basic shades you'd think of to more adventurous ones like red-brown and copper.
It has 12 shades:
They are: Ounce (ivory shimmer); Chaser (light nude matte); Sauced (soft terra-cotta matte); Low Blow (brown matte); Lumbre (copper shimmer w/gold pearl shift); He Devil (burnt red matte); Dirty Talk (metallic burnt red); Scorched (metallic deep red w/gold micro-shimmer); Cayenne (deep terra-cotta matte); En Fuego (burgundy matte); Ashes (deep reddish-brown matte); Ember (deep metallic copper-burgundy).
It retails for $54–which is a pretty amazing price considering how cult Urban Decay palettes are and how many different shades (12!) you can get at once.
K, you need it now? So, here's all the info you need to know to get your hands on it:
There are a few one day exclusives to get the palette! On June 21, 2017 for one day only you can snag one at Ulta. 
If you miss that, no worries–Macy's has it on June 22, 2017 for one day only! Use this link. 
If you miss both, Urban Decay is bringing them back on June 30th, 2017 on UD.com, online at Ulta on July 10th, 2017, and at Sephora and Ulta stores on July 13th, 2017. 
That means you can order one online June 30th at Urban Decay's site, and if they sell out again–you'll have two more chances to snag one. Plus, if you have loyalty points at any of those places, you can use them. Good luck!
READ MORE: New Urban Decay Products Just Launched And You Need To Know About Them