More
Even with the advent of better designs and comfort straps, one culprit remains the bane of millions of women everywhere: the underwire. If it's not poking, pinching, or leaving an unsightly mark underneath, it works its way out of the fabric altogether to stab you at the most inopportune times. We feel your pain, and we're here to help. Below are our favorite wireless bras that support without cinching, give your cleavage a great shape, and look sexy to boot. Great for women who can no longer wear bras with wires (ie., post-surgery), these bras are truly comfortable, seamless under the lightest tops and make your ta-tas look amazing.
1. Best Cheap Wireless Bra: Warner's
Warner's "wire-free" bras are perfectly priced and supremely comfortable. Starting around $25 and sold at Kohl's, Macy's, Amazon, JCPenney and more, these bras are affordable for any budget–and deliver the goods. They have not only wire free but wire free with lift. Our favorite styles are the Cloud 9 Lift Wire-Free T-Shirt Bra ($38) and the Elements Of Bliss® Wire-Free With Lift ($38).
2. Softest Wireless Bra: SPANX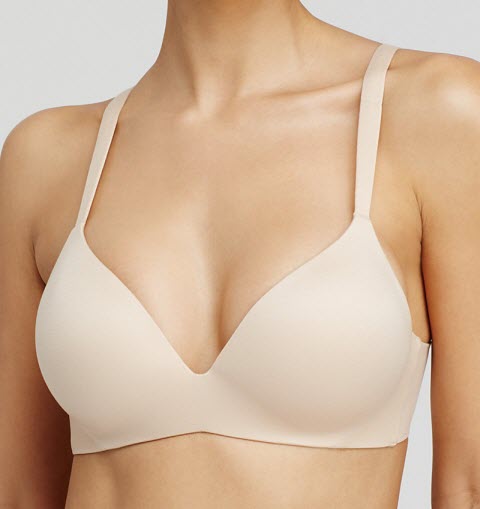 SPANX isn't just shapewear anymore–their wireless bras are top notch. We especially love the Pillow Cup Signature Wireless Bra ($68), which is also completely seamless (including under a cotton tee!). You'll seriously forget that you're wearing it.
3. Best Lift: Wacoal
On the pricier end, but totally worth every penny, is Wacoal's How Perfect Soft Cup Bra ($60) which has contour cups, brushed cotton that makes it SUPER soft, and foam cups that lift boobies right into place. Win-win-win!