Flat Sandals
Knee High Gladiator Sandals for Women
The flat sandals all the girls in our office are craving most for spring are women's gladiator sandals. Thanks to celebs like Kourtney Kardashian, Vanessa Hudgens and Selena Gomez, tall gladiator sandals are trending (although we love the short version, too). The throw-back shoe (like wayyy back) is actually a great fashion statement, with ripped jeans or a cool silk dress. Brands like Ancient Greek, Dolce Vita, Loeffler Randall, Jeffrey Campbell, Steve Madden (great for cheap gladiator sandals) and more all make incredibly cool pairs. You can even find gladiator sandals on sale at places like the Nordstrom shoe clearance and Neiman Marcus Last Call (which might be a good idea if you are experimenting with the trend for the first time and don't want to spend a ton of money on your first pair!).
The knee-high gladiator sandal trend. 
[youtube]https://www.youtube.com/watch?v=k_wkctvf6Ps&nohtml5=False[/youtube]
White and Gold Sandals
Sandal styles that are arguably more timeless than gladiators, and definitely way more versatile, are gold sandals and white sandals.
Gold flat sandals dress up any outfit and look great with a colorful summer dress or white jeans. We love this pair from Splendid, or pretty much any style from Dolce Vita. They're also good for day-to-night vacation looks.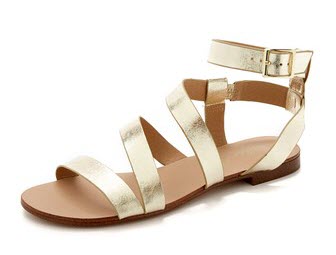 Shop now: Splendid Caracas Sandals ($88)
White sandals, such as white Birkenstock sandals (which totally came back recently!), are also effortlessly cool and great especially in summer (no, you don't have to wait 'til Memorial Day to wear them.) They also make you look tan–just make sure you don't let them get too scuffed up. (And if they do–use magic eraser or nail polish remover to clean them).
Shop now: Birkenstock Arizona White Birko-Flor Sandal ($99.95)
[youtube]https://www.youtube.com/watch?v=NhLxhCvD4o0[/youtube]
Leather Sandals
Brown or black leather sandals are another style you can't go wrong with. You're guaranteed to match most outfits with them, and if they are genuine leather or a suitable alternative, they will last forever. The trick to shopping for women's leather sandals is first to determine whether you need a black pair (if you wear a lot of black) or brown (if you wear denim and bright colors). If you're budget is over $100, check brands like Loeffler Randall and Stuart Weitzman. If you're looking for something $50 or under, check Topshop and Steve Madden. We also love leather platform sandals if you're something with a little more lift.
Topshop Herb Lace-Up Flat Sandal ($45)
[youtube]https://www.youtube.com/watch?v=zM4JPttZxdM&nohtml5=False[/youtube]
T-Strap Sandals
Another flattering and cool sandal style are t strap flats. They actually make the foot look longer (just in case you need that) and really never go out of style. One of the best pairs is Sam Edelman's Gigi–they are universally loved by editors, bloggers and celebs alike. They are one of the more basic strappy sandals on the market–you're not taking too much of a fashion risk with them, but sometimes that can be a good thing!
Our favorite pair of t strap flat sandals: Sam Edelman's Gigi ($75)
[youtube]https://www.youtube.com/watch?v=iyhSKoaN3nk&nohtml5=False[/youtube]
[Photo: Always Judging]