Platform Sandals, Sneakers, And Pumps
Must-Have Flatforms and Platform Shoes
It's platform season and we are BEYOND ready!  There's nothing like a good chunky platform or flatform shoe to make you feel like a street style star. I always get a ton of compliments when I wear my black platform sandals, so, naturally, I wear them as much as humanly possible. Plus, the added height always makes me feel better about myself — short girl issues… But regardless of your height, platforms are definitely THE BEST shoe for casual spring and summer wear. They're totally gorgeous and lend a polished look, and unlike other forms of heels (ahem, stilettos), they cause little or no pain!
Here it is, our guide to platform shoe styling! We hope this will help you find the platform or flatform shoe of your dreams. Happy hunting, ladies!
BC Footwear Feline Flatform ($65)
The BC Flatform sandals above are to die for. This classic look goes with any personal style. I can picture Gwen Stefani wearing them just as easily as I can imagine Olivia Palermo or Taylor Swift rocking a pair. OBSESSED.
Platform Heels
High heel platform shoes are the epitome of cool girl style — I mean, just look at that sexy silhouette! From Stuart Weitzman to Christian Louboutin, the look has always left its mark on the history of top shoe brands.
The platform boost gives you added height without extra pressure on your arches. Plus, doesn't it remind you of wonderfully retro movies? Can't you imagine Cher Horowitz browsing shops on Rodeo Drive, wearing the Miu Miu black platform sandals below?
If you're looking for a bright spring-ready pair, we recommend these turquoise platform high heels from BCBGMAXAZRIA. Gorgeous, right?
Miu Miu Suede Ankle-Strap Platform Sandals ($690)
[youtube]https://www.youtube.com/watch?v=hyyhJG97o30&nohtml5=False[/youtube]
Platform Sandals
I may be a creature of habit, but I wear my black platform sandals pretty much every day that the sun is shining. I can't get enough! Not only are they super chic and of the moment, but they also do amazing, AMAZING, things for your legs. Women's platform sandals are like Bratz doll shoes, their sheer size makes the rest of you look smaller  — uhh, fine by me! Wearing platform shoes may be the actual easiest way to look slimmer. If it were up to me (and I lived somewhere warm), I'd be rocking platform sandals all year long.
Black and white platform sandals are the most typical, but we're pretty obsessed with the navy ones below. Steve Madden carries an amazing pair in rose gold, too!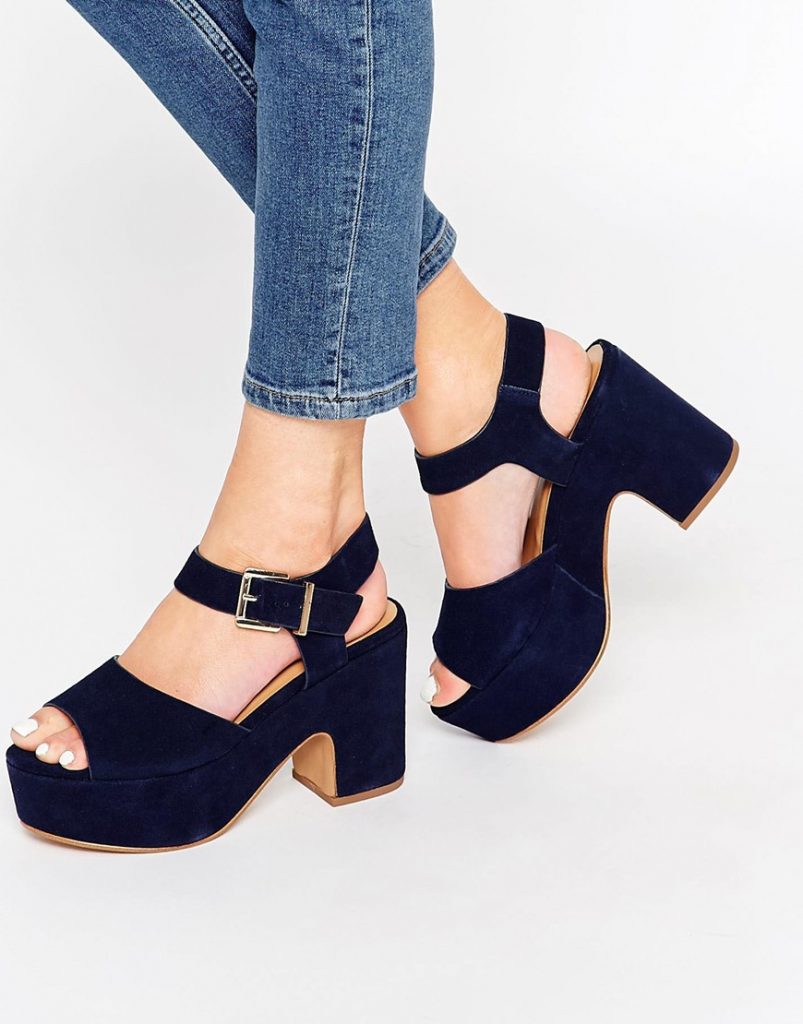 ALDO Nathalia Navy Platform Heeled Sandals ($98)
[youtube]https://www.youtube.com/watch?v=sQz371acI4w&nohtml5=False[/youtube]
Platform Sneakers
If you're looking for some height, but still committed to a casual (and close-toed) vibe, platform sneakers are the ultimate option. We absolutely LOVE the Superga white platform sneakers below. They would literally go with ANYTHING! High platform sneakers are the key to making any outfit look unique — whether casual or formal. We can totally picture celebs like Kendall Jenner or Gigi Hadid hittin' the town in platform sneaker style.
Superga Platform Sneakers ($80)
[youtube]https://www.youtube.com/watch?v=SUZx4FjoZls[/youtube]
[Photo: Fake Leather]