Pumps
The Best Pumps And Heels: Nude, Black & More!
Nothing feels sexier than a great pair of sky-high heels. Whether they're black leather pumps or nude platform pumps, they're a "power shoe"–one that makes a woman feel like she can do anything (especially KICK some you-know-what). We at SHEfinds have a special soft spot for all kinds of pumps and heels, and have rounded up the best ones here.
[youtube]https://www.youtube.com/watch?v=SUZx4FjoZls[/youtube]
Ankle and T-Strap Pumps
The ankle strap or t-strap pump (as it is also known) is an absolutely smoking hot shoe for any woman. You'll see this style on many street style bloggers–we once declared it "the only shoe you need to buy this season" after designers like Alexander Wang, Tibi, Siegerson Morrison put out incredibly sexy styles–and the fashion world took notice. Luckily, there have been many cheaper knock-offs since; for cheap t-strap pumps, look to brands like Steve Madden, Sam Edelman and Jessica Simpson. The style comes in many variations and colors from black t-strap pumps to black pumps with ankle straps–check stores like Nordstrom and Shopbop for the best styles.
Valentino Rockstud Pumps
When you think about a shoe that has universal appeal to style bloggers and celebrities alike–you think of the Valentino Rockstud pump. The incredibly sophisticated and stylish shoe has been a favorite for years–you'll see them on everyone from Reese Witherspoon and Kim Kardashian to blogger Pink Peonies. Valentino studded pumps are the epitome of cool–wear them with a cocktail dress or cuffed boyfriend jeans and they have the same affect: making you look like you know exactly what. (Psst–don't have $1,000 for a pair? Sam Edelman made an $140 version.)
Shop now: Valentino 'Rockstud' Pump ($945)
[youtube]https://www.youtube.com/watch?v=4oPWg3CATzs&nohtml5=False[/youtube]
Casadei Pumps
Another brand that our editors as well as celebs like Zoe Saldana and Selena Gomez LOVE is Casadei. Their Casadei Blade pumps is a cult style–a classic pump with an incredibly sexy and timeless arch. They are SO flattering for legs. (p.s. If you can't afford the original $750 pair, we found a really similar style for just $34 here.)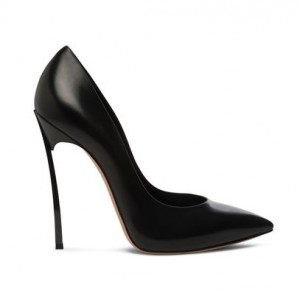 Shop now: Casadei 'Blade' pumps
[youtube]https://www.youtube.com/watch?v=nK8XmE929XE[/youtube]
L.K. Bennett Pumps
When Kate Middleton likes a piece of clothing–she REALLY likes it. Take, for one, her L.K. Bennett Sledge Pumps. The Duchess has worn them so many times, we can't even count. And can you blame her? The nude patent pumps are absolutely timeless. L.K. Bennett pumps are all timeless, actually. It's a great shoe brand if you don't already own a pair–especially for work and special occasion pumps. Shop Kate's exact favorite pair here: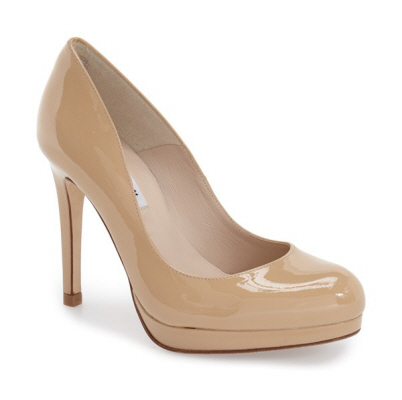 L.K. Bennett 'Sledge' Pump ($345)
[youtube]https://www.youtube.com/watch?v=124QDUh5wxE&nohtml5=False[/youtube]
[Photo: Crystalin Marie]