Wedges
Nude Wedge Heels
Nude shoes are known for being incredibly flattering (they actually make your leg looks longer!) so if you need a new pair of wedges, I would start by looking for a great nude or neutral pair (tan wedges are also amazing for this reason). For special occasions like an outdoor wedding or graduation, we suggest patent nude wedges like the classic Stuart Weitzman Jean wedge, which have a very sophisticated and polished feel:
Shop now: Stuart Weitzman Jean wedge ($398)
For regular every day wear, we love strappy nude wedges (like this pair Kate Middleton wore) and other go-with-everything-neutrals like tan wedges and beige wedges. Style them with white jeans or a colorful summer dress.
[youtube]https://www.youtube.com/watch?v=cluuCdl9kWU&nohtml5=False[/youtube]
Cork and Espadrille Wedges
Speaking of Kate Middleton–she is seriously obsessed with Stuart Weitzman's cork wedges, and now so are we. Cork and espadrille wedges are definitely the classiest shoes for summer (I mean, if they are good enough for the Duchess…) and can be styled with not only dresses and skirts, but with skinny jeans, a la Kate. We're getting major style inspo from this look she wore in 2014: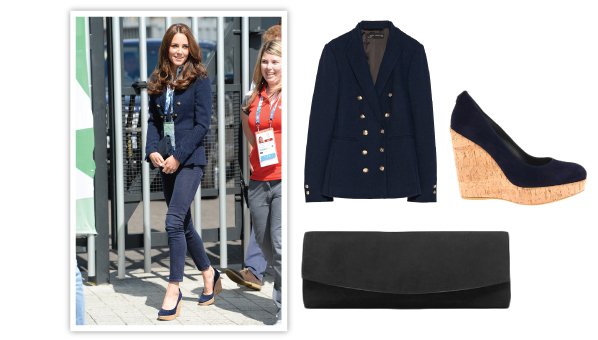 Kate Middleton styled her Stuart Weitzman Corkswoon wedges ($398) with skinny jeans and a blazer. Love it! Get her exact pair of navy espadrille wedges here: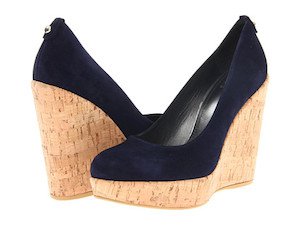 Stuart Weitzman Corkswoon wedges ($398)
[youtube]https://www.youtube.com/watch?v=qjV_WBMzG-k&nohtml5=False[/youtube]
TOMS Wedges
Another brand that makes a great pair of wedges is TOMS. If you don't already know, TOMS is a great philanthropic company that donates a pair of shoes to a child in need for every pair sold. Since launching their classic flats, TOMS has expanded to wedges–which our editors love and which are also a bestseller for the brand. They come in two great wedges styles for any season–an open-toe sandal and a desert bootie:
We found these TOMS Calypso canvas wedges ($54.90, down from $68.95) on sale !
TOMS wedge sandals (above) are great for spring and summer (they even make a bridal pair!) and TOMS desert wedges are great for fall and winter:
TOMS Desert wedge bootie ($88.95)
So–which do you like best? We're torn.
[youtube]https://www.youtube.com/watch?v=AXDuAN5MbdQ&nohtml5=False[/youtube]
Stuart Weitzman Wedges
Sorry to obsess, but we really can't say enough good things about Stuart Weitzman wedges. As we mentioned previously–Kate Middleton is obsessed and so are we. The main styles you need to know about are the Jean wedge, the Corkswoon, the Minx and the Alex.
The Jean wedge, as we mentioned above, is a nude patent wedge that is perfect for special occasions like outdoor weddings.
The Corkswoon is easily Kate's favorite pair of Stuart Weitzman cork wedges. Here she is wearing them on two separate occasions (but looking equally chic both times):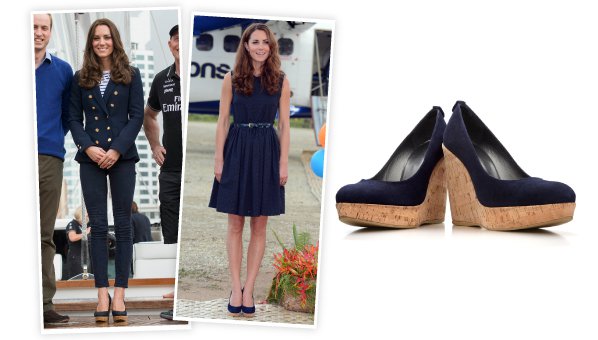 Kate Middleton's personalized Stuart Weitzman cork wedges
The Minx are another great pair for special occasions (summer weddings, cocktail parties, etc). Here's Kate wearing them to the Royal Easter show: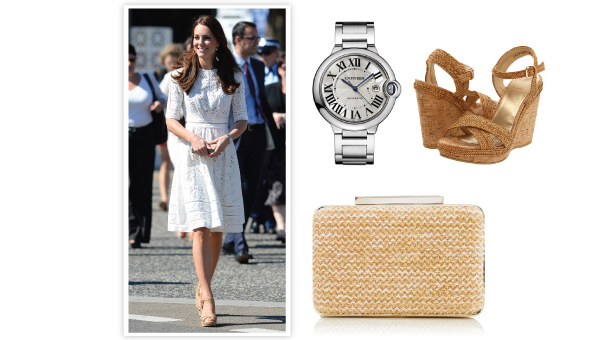 Kate Middleton's Stuart Weitzman Minx Wedge ($395)
Lastly, the Alex wedge is a style that you can find on sale now–it's a few seasons behind but really is a classic, timeless wedge shoe, so don't worry. The heel is sky high so it is definitely flattering. We found them online for almost 50% off!! Get them now: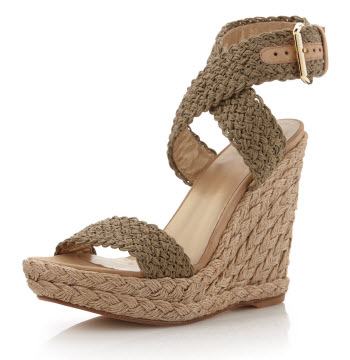 Stuart Weitzman Alex Wedge ($227.50, down from $425.25)
[youtube]https://www.youtube.com/watch?v=sVhTC0Lo7PI&nohtml5=False[/youtube]
[Photo: Always Judging]