Yesterday, C. Wonder launched their first ever premium denim line, and their jeans may be the most comfortable on the planet. Designed with C.WonderStretch Technology, a 4-way stetch fabric, the jeans are meant to provide maximum comfort with a flattering contoured fit. C. Wonder promises that even though these jeans are stretchy and easy to wear, style was not compromised. Basically, the store assured us that these aren't pajama jeans (Thank goodness!).
The new C. Denim line comes in three styles: skinny, curvy and skinny ankle with a really cute zip detail (see the photo below), and they are available in indigo or black. These jeans are so comfy that C. Wonder may have just become our favorite place to shop for denim. Will you try a pair?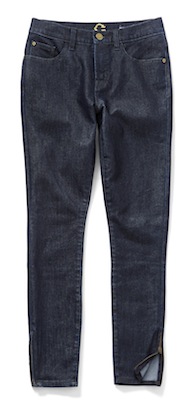 Indigo Rinse Stretch Skinny Zip Ankle C. Denim ($128)
And don't forget to check out: Jessica Alba's jean jacket, sweatpant jeans and normcore jeans.