Our 'perfect' Julianne Hough has found another 'perfect' shirt for this winter. It will be your replacement for all things chambray (at least until the warm weather hits). Julianne wore a Current/Elliott The Perfect Shirt ($198) which is basically a dark, black-ish color. And yes, you can still wear all things denim with it. Julianne threw hers over a black  crop top and skater skirt while running errands, but for those of you suffering through the polar vortex,  pair it with jeans, cords, heck, even leggings. Sure, it will be bundled under your many layers, but once inside, you can show off the goods.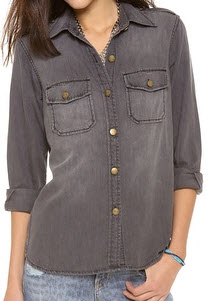 Current/Elliott The Perfect Shirt ($198)
Shop more great celebrity style finds such as Jessica Alba's red leather skirt, Beyonce's Topshop skirt,  Kourtney Kardashian's flattering sweats and Alessandra Ambrosio's booties.
[Photo Credit: Splash News]