Can You Tell Which Backpack Costs $865 More Than The Other?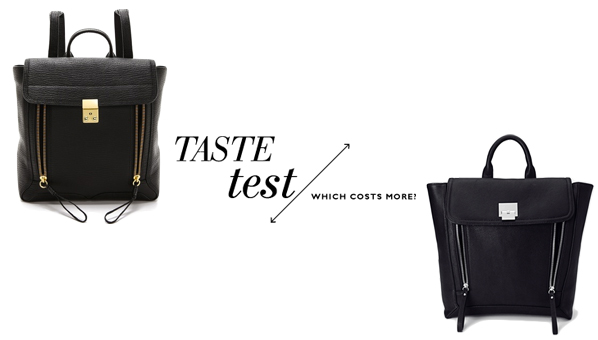 The exposed zippers and push-lock flap on a 3.1 Phillip Lim Pashli are recognizable from a mile away. If you know this bag, you know those are its two signature characteristics. Since imitation is the sincerest form of flattery, it's not really surprising to see another bag with the same details. This one comes courtesy of Forever 21. The biggest distinction between these two backpacks has nothing to do with the design–it's the insane difference in price. Can you tell which costs more?
Answer: The one on the left is 3.1 Phillip Lim's Pashli Backpack ($895), and the one on the right is Forever 21's Pebbled Faux Leather Backpack ($29.90). Did you guess correctly? Which do you like better? Let us know in the comments below!
Test your fashion savvy some more with: black bags, booties and sweatpant jeans