Can You Tell Which Bag Costs $446 More Than The Other?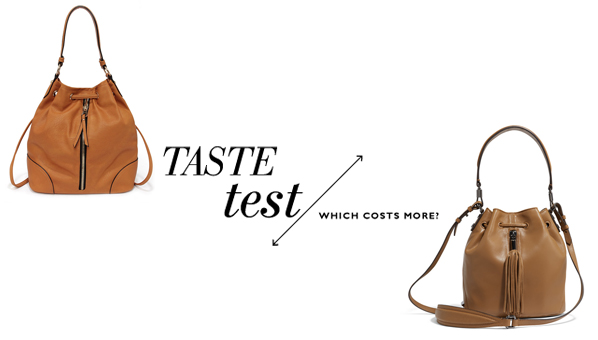 Elizabeth & James' Cynnie bags have been popular for a while now. They come in such styles as a bucket bag and backpack (or should I say "sling bag"), and feature a drawstring closure with a front zip pocket. It's a recognizable design, which is why I was surprised to come across this lookalike. For just $39, you can get a bag that doubles as a backpack and looks like Elizabeth & James. Pretty sweet, huh? But before you buy, can you tell which bag costs more than the other?
Answer: The Boom Clap Tan Convertible Backpack ($39, down from $67) is on the left, and the Elizabeth & James Cynnie Coco Bucket Bag ($475) is on the right. Did you guess correctly? Which do you like more? Let us know in the comments below!
Test your fashion savvy some more with: studded pumps, x rings and platform slip-ons