Can You Tell Which Black Booties Cost $440 More Than The Other?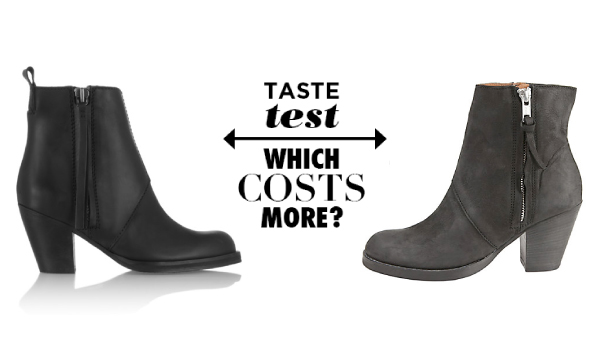 Fall is now 5 days away, and if you haven't bought a pair of black booties yet then you better get shopping! They're the perfect shoe for any outfit, from dresses to skirts to pants to jumpsuits to leggings…you get the picture. Now some people like to splurge a little on something they know they're going to wear a lot, but what if you can't tell the difference between a $100 pair of boots and a $500 pair? Would you go for the expensive ones or the lookalikes? Can you tell which booties cost more?
Answer: The bootie on the left is ACNE's The Pistol leather ankle boots ($570), and the bootie on the right is, drumroll please, Steve Madden's PARADOXX black leather bootie ($129.95). Did you guess right? Let us know which one you like in the comment section below!
For more taste tests, check out Valentino vs. knock-offs, Rag-and-Bone booties vs. knock-offs, and a silver spike cuff showdown