Can You Tell Which Black Boots Cost $395 More Than The Other?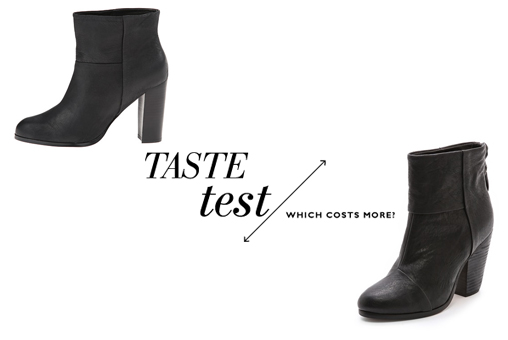 rag & bone boots are to fall what Mara Hoffman bathing suits are to summer–everyone wants one. We've rounded up knockoffs of the brand's cult shoes in the past (Harrow, Newbury, etc.), but the pair we just came across might be the best lookalike yet. Both shoes are black leather and have almost identical seaming. The only major difference is the heel height and thickness…oh, one costs $365 more than the other. Can you tell which booties are more expensive?
Answer: The one on the left is Aldo's Prigorwen ($130), and the one on the right is rag & bone's Classic Newbury Boots ($525). Did you guess correctly? Which do you like better? Let us know in the comments below!
Test your fashion savvy some more with: leather backpacks, pearl bracelets and sweatpant jeans