Crop flare jeans are HAPPENING, folks! Sorry if you are sick of hearing about them, but our editors haven't been so excited about a new jean trend since, well, skinny jeans 7 years ago. And we're not alone–these jeans are everywhere in New York.
So–are you on board? Come onnnnn, girl. Do it. We'll tell you exactly where to get the right pair for you–and even start the process with a fun game: our Taste Test fashion quiz!
So, when it comes to the crop flare, also known as the crop kick or summer flare, there are two great pairs to consider–can you guess which pair is $200 and from Rag & Bone, and which are the $59 Gap ones?? Click to find: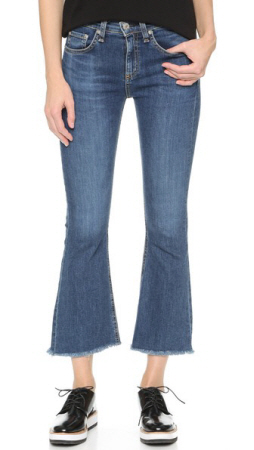 So–how'd you do, and which pair is for you??
Want to see how good you are at guessing how much stuff costs? Play more of our Taste Tests:
Can You Tell Which Scalloped Bikini Costs $225 More Than The Other?
Can You Tell Which Ghillie Sandal Is Stuart Weitzman And Which Is Dolce Vita?