Can You Tell Which Cut Out Booties Cost $1,220 More Than The Other?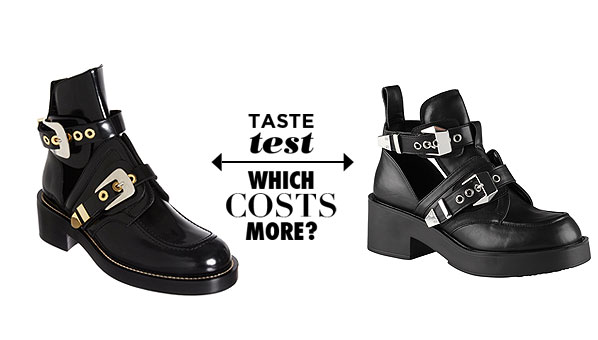 Despite what many people think, winter doesn't officially start until the Dec. 21, so cut-out boots are still totally acceptable to wear. And because it's such a trend this season, all kinds of brands are knocking off the top designer versions. And this one here might be our craziest taste test yet. A $1,000 difference is ridiculous, especially because these shoes look practically the same. Can you tell which cut out booties are the designer?
Answer: The boots on the left are Balenciaga's Double Buckle Strap Boot ($1,275). Yikes! And the boots on the right are the Call It Spring Flomiss Bootie ($55). We wish we had that kind of cash, but we're pretty pumped that we can get such a great look-a-like. Did you guess right? Let us know in the comment section below!
For more taste tests, check out real fur vs. faux fur, Chloe studded ankle boots vs. knock-offs, and Steve Madden vs. Sandro