Can You Tell Which 'Fuzzy' Sweater Costs $45 More Than The Other?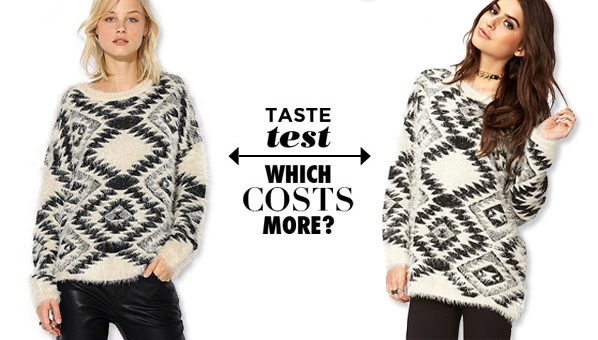 Usually our Taste Tests include one designer item and a reeeeally good lookalike that's a fourth of the price. But this go-round, both sweaters are under 70 bucks and come from two of the best fast fashion stores: Urban Outfitters and Forever 21. We're kind of surprised that both retailers would sell such a similar item, especially when there's a price difference. We'd understand if it was five to ten dollars, but forty-five? Obvi we'd just go for the cheaper one in this scenario. But can you tell which one that is?
Answer: The one one the left is the Starring At Stars Fuzzy Geo Sweater ($69), and the one on the right is the Fuzzy Southwestern Pattern Sweater ($24.80). Which one do you like more? Let us know in the comments below!
Test your fashion savvy some more with: jeweled-heel shoes, tiger necklaces and studded handbags