I just got my first pair of ghillie sandals–I know I am late to the game, but I'm here goddamnit!–these Chinese Laundry ones. They're great, right?
While shopping for 'em, I came across BEAUTIFUL Stuart Weitzman ones. Oh my goodness were they gorgeous. Genuine leather, the perfect "amaretto" brown, cool tassel ties–the whole 9 yards. But, alas, they were also $445 (about 10x my budget for new sandals).
So, I kept shopping and found another brown pair from Dolce Vita–almost the exact same color, lace-up ties, genuine leather but the sole is synthetic (who cares?). They were $89.95!
So–can you tell: which pair are the Stuart Weitzmans and which are the Dolce Vitas? Click to find out!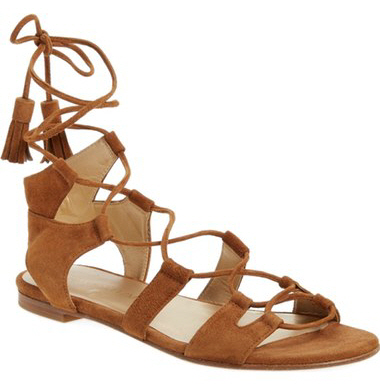 So–did you guess right??