Ever since Lady Gaga made heel-less heels "a thing" (or, at least, a red carpet thing), we've been waiting for them to hit the retail market. First, Giuseppe Zanotti took the plunge, producing several styles for Pre-Fall 2012, and now, an even more accessible shoe brand, Chinese Laundry, has tackled the tough-on-the-ankles style. Question: would you take the Fashion Dare? And, more importantly, can you tell which of the identical pairs costs $500 more than the other?
Answer:
These Chinese Laundry 'Controversy' sandals ($99.95)…
…costs $500 LESS than these: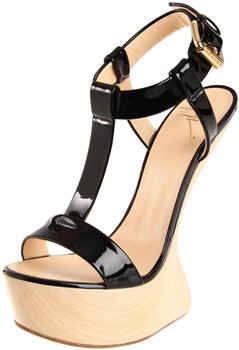 Giuseppe Zanotti Women's E20378 Platform sandals ($591.82).
For more shoes, check out Narciso Rodriguez' first-ever shoe line, Christian Louboutin's Cinderella slippers, and Gucci's 'Sustainable Soles'.