Can You Tell Which Leather Backpack Costs $1,235 More Than The Other?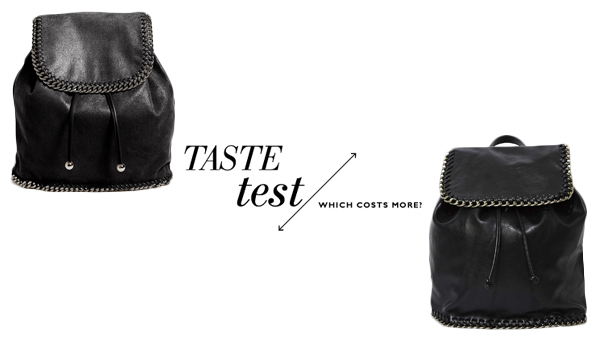 Stella McCartney's Falabella bags, with their chain-link trim, are so effortlessly cool. Problem is, one of these will set you back upwards of $1,000. So it's no surprise that knockoffs are popping up everywhere. First, there was the lookalike tote from Steve Madden, and now Nasty Gal is selling a backpack that is almost identical to the real design. The only major difference? One has knots at the bottom of the drawstring. Can you tell which backpack costs more than the other?
Answer: The one on the left is Stella McCartney's Falabella–Shaggy Deer Backpack ($1,295), and the one on the right is the Aliandra Chain Backpack ($60) from Nasty Gal. Did you guess correctly? Which bag do you like better? Let us know in the comments below!
Test your fashion savvy some more with: ponchos, boots and collar necklaces