Can You Tell Which Letter Stud Set Costs $190 More Than The Other?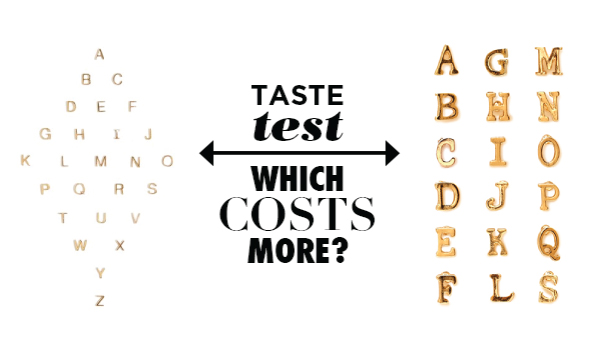 I bought the Forever21 Quirky Letters Stud Set ($5.80) last month and have been obsessed ever since. I even decided to write a post about my love and brought them into work for a photo shoot. So when one of my co-workers mentioned she saw another letter stud set from BaubleBar, I had to do some investigating. But once I realized the differences between the two, the price tag for each makes sense. Can you tell which costs $190 more than the other?
Answer: The one on the left is the Maya Brenner Alphabet Studs ($196) from BaubleBar, and the one on the right is Forever21's Quirky Letters Stud Set ($5.80). On the surface, these two sets looks the same, but they really aren't. BaubleBar's actually isn't a full 26 letter set. You can buy two gold letter earrings per order. Forever21's IS a set but does not include all the letters of the alphabet, and it is also metal. So, the major difference in price actually seems about right here since these two aren't exact lookalikes of one another.
Test your fashion savvy some more with: pave link bracelets, gold chokers and flatbed sandals